5 alternative experiences in Argentina!
Sleeping in the middle of a salar, diving with wild sea lions, or making your own wine. There are a multitude of curious, fun and sensational experiences to be had in
Argentina
, here is a selection!
Luxury camping in Salinas Grandes
In the province of Jujuy lies one of the country's seven natural wonders: the third largest salar in South America, better known as Salinas Grandes. Twelve thousand hectares of white salt crystals put it on the podium. On this visit, you will be treated to mirages, creative photography and a landscape that melts into the reflection of the sky.
To extend the experience, and also to enjoy the panorama at night, Pristine Camps has been designed to have no impact: neither environmental nor visual. The high-end facilities are powered entirely by renewable energy!
San Telmo, with its narrow streets, is a neighbourhood that takes the visitor on a journey back in time, but it is also home to the Buenos Aires Puppet Museum. It is a real return to childhood, as the puppeteers remind us that imagination is essential to human beings. More than 500 puppets are on display: dolls, Sicilian puppets, marionettes, etc. The origins are very diverse, from China, India or Japan to Vietnam, Switzerland and of course Argentina. In addition to enjoying the collection, you can enjoy the puppet theatre for adults, clown and musical shows.
Assembly game in Mendoza
Have you ever dreamed of being a winemaker for a day? With Blending Game, it's possible! More precisely, in the Argentinean capital of wine: Mendoza. Here, surrounded by extraordinary landscapes, several of the best wineries such as Norton or Vistalba offer you a unique experience! What can you do? Visit a winery and create your own wine. Accompanied by experts, you will taste, test and experiment with the different grape varieties of the region. And that's not all, if you go in a group you can enter a competition for the best result. The winner gets his or her blend bottled to continue the tasting with friends when they return from their trip!
Snorkeling and diving in Chubut
In Puerto Madryn, one of Argentina's most visited places for wildlife viewing, you can also get a closer look at some of the smaller creatures. How can you do this? By taking a water excursion to Punta Loma, where hundreds of sea lions and sea lions welcome their guests. It's a one-hour coastal sail through the Golfo Nuevo, which gives you the incredible experience of swimming with the sea lions while snorkelling or, if you've taken a course, scuba diving. This place is considered one of the most popular spots in the world for scuba diving enthusiasts!
Skydiving in Cordoba or Buenos Aires
If you want to get your heart pumping, this plan is for you. Where? In Alta Gracia, a place that offers skydiving experiences only 30 minutes from the city of Fernet. If you're in Buenos Aires, you can also experience the thrill of skydiving in Lobos, the national skydiving capital.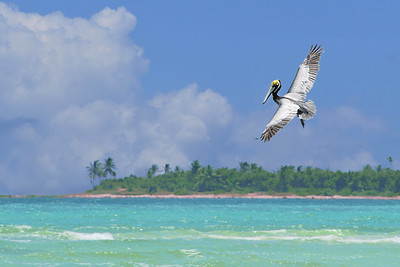 DESTINATIONS Sian Ka'an: Where the sky meets the earth in Yucatán Located on the east coast of the Yucatán peninsula, some twenty kilometres from Tulum, the Sian Ka'an Biosphere Reserve is a treasure trove of biodiversity. Its name, which means "where the sky was...
read more