Easter Island, a start of recovery scheduled for October
Easter Island is gearing up for a slow recovery. Indeed, once air restrictions are lifted, rotations should return to the rate of 1993 with four planes per week against 15 until last March.
The mayor of Rapa Nui, Pedro Edmunds, told Diario Financiero newspaper, that the island is preparing for a new paradigm: "Tourism will change completely, it will not be so massive anymore and will have to focus more on collaboration with the sustainability of the island ".
In the meantime, the director of the Island's Chamber of Tourism, Maeva Riroroco, announced that all tourism stakeholders were preparing with the protocols, training staff to be protected, as well as adapting infrastructure for reopening.
In principle, two flights per week should land on the island with a maximum of 200 passengers per week.
"Obviously the community is scared, but it's scarier not to open up and fall into a very big economic crisis. In 2019, we welcomed 150,000 tourists to the island, or nearly 12,000 tourists per month. We have planned, according to what the company Latam says, one or two flights per week with a maximum of 150 people – in order to be able to manage the recommended distance between the passengers – who are not all tourists, they are also islanders traveling to Santiago; so for starters we don't expect more than 200 travelers per week, "she explained.
Maeva Riroroco also referred to the employment funds created by the municipality, intended for people working in the tourism industry who have become unemployed. "There is optimism and that makes people more creative, reinventing themselves in an effort to make the island better for when we open to the public."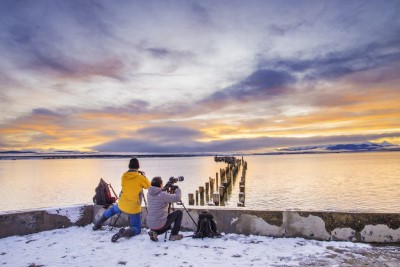 LATAM NEWS Sernatur launches the "Turismo todo el año" campaign in the Magallanes region and in the Chilean Antarctic With the aim of extending the season and boosting tourism during the autumn and winter seasons, the Chilean tourism promotion agency (Sernatur) of the...
read more