Edelweiss Air announces new direct flights from Zurich to Bogota and Cartagena de Indias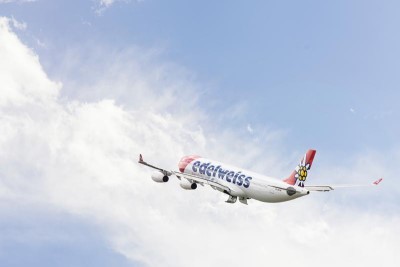 Swiss airline Edelweiss Air will operate its first flights to Colombia, linking Zurich with Bogota and Cartagena de Indias. It will offer two weekly frequencies on Sundays and Wednesdays on a seasonal service from 22 November until May 2024.
"The introduction of direct air services from Zurich to Bogota and Cartagena from November 2023 is an exciting development for Edelweiss Air. These new flights to Colombia will boost tourism between Switzerland and Colombia. We are looking forward to bringing many Swiss tourists to visit and explore this beautiful and diverse country (…) As Edelweiss is part of the Lufthansa Group, our passengers will be able to combine our flights with those of Lufthansa, creating an attractive programme with many possibilities", said representatives of the airline.
With Bogota and Cartagena de Indias as new destinations, the Swiss airline, a member of the Lufthansa group, will serve 90 destinations in 38 countries.
The Deputy Minister of Tourism, Arturo Bravo, was delighted "that Edelweiss Air has chosen Colombia as the destination for its new operation, a sign of the country's progress as an international destination and of the confidence of international airlines in the Colombian market". For the government of President Gustavo Petro, tourism is a fundamental sector for sustainable and productive development, and connectivity is key to this objective.
The Swiss airline already offers connections to the Latin American/Caribbean region with Mexico (Cancun), Cuba (Havana and Varadero), Costa Rica (San Jose and Guanacaste), Jamaica (Montego Bay), the Dominican Republic (Puerto Plata and Punta Cana), Brazil (Rio de Janeiro) and Argentina (Buenos Aires).
LATAM NEWS Riobamba: the heart of Ecuador   In Ecuador, heritage sites occupy a central place in daily life, as the history, customs, traditions, gastronomy and charm of the local population offer authentic travel experiences. A fine example is Riobamba, which offers...
read more