From Austria, 42 days visiting Ecuador!
Visit Latin America: How did you organise this trip to Ecuador?
Mr. Hofmann (Client): I am more of a traveller than a normal tourist. When I had the idea to travel to Ecuador, I immediately looked on Google Maps to find the areas and cities I wanted to visit, especially in the countryside. Then I gave my ideas to my travel agent in Vienna, Yvonne from ON TOUR.
She then contacted Leonardo from Quimbaya Latin America in Ecuador. They came back with a solution that was a bit different from what I originally wanted but the trip turned out very well and I got everything I wanted.
Yvonne Hinner (On Tour Agency): We worked out the rough programme with my client and finally sent it with his wishes to our local agency – Quimbaya Latin America – in South America. My client reviewed the first offer and asked me to make some changes. Then he booked his trip, very quickly as he always does.
Leonardo Castillo (Quimbaya Tours): When I received this request, I immediately saw that Mr. Hofmann wanted a tour in Ecuador that was out of the ordinary, with visits to cities outside of the classic tourist programs, with driving times of maximum 4 to 5 hours per day to be able to interact with the local population and with a tour duration of 42 days!
We started by creating a framework that would fit the requirements of our passenger and the terrain.
Very quickly, we made all the reservations according the conditions of each supplier in these times of pandemic. In a very short time, we were able to present a complete programme in line with the company's current biosafety policies.
Carlos (Guide): Our traveller wanted to see Ecuador in the form of a tour that included the three main regions, the Amazon, the Pacific coast and the Andes. We decided to start with the highlands, then continue to the coast to rest a bit and left the Amazon for the end, where Mr. Hofmann planned to do an eight-day cruise to enjoy this small portion of the Amazon basin that belongs to Ecuador.
VLA: Were you apprehensive about organising this trip and what made you decide/reassure yourself?
Yvonne Hinner (On Tour Agency): For my client and for me as a travel agency it was clear that if the entry was allowed and the entry requirements were met, there was no problem to organise and book this trip. However, we booked it very shortly before arrival as Mr Hofmann did not want there to be any last minute changes due to the entry rules.
Mr Hofmann (Client): I always say that I am not picky enough to be afraid of anything. I have already met grizzly bears, bison and other strange things in my travels! At the moment, if you wear the mask, you are safe. If not, anything can happen, in your bed, in your house or in your garden, or near your home … I am not afraid!
VLA: What were your expectations before you left?
Yvonne Hinner (On Tour Agency): My client is very special and experienced in travelling. This time his expectations were low. He was aware that there would be restrictions on the spot and that changes to the itinerary or hotels could occur suddenly. In general, once you accept all this, you can enjoy your trip without any problems.
 Mr. Hofmann (Client): I had only 3 expectations for this trip: the climate because Ecuador is a warmer country than Austria in this season; good food because the restaurants are closed in Austria, and then, I wanted a change of atmosphere and environment without anxiety speeches.  So I had a great time in Ecuador, and I just had a great holiday.
VLA: How did the trip go?
Yvonne Hinner (On Tour Agency): My client is still on site, but as soon as he finds Internet access he sends me news. So far he has been more than happy with everything and keeps us informed about his trip and gives us the information he considers important. He is doing very well and enjoying every day.
Leonardo Castillo (Quimbaya Tours): In spite of all the restrictions that we are experiencing at the moment, Mr. Hofmann's stay went as planned. All the planned visits were carried out, and we only had two hotel changes due to internal difficulties.
We communicated with the guide on a daily basis and even several times a day! This allowed us to anticipate possible inconveniences. I must also note that the availability and good energy of our visitor made things much easier.
Mr Hofmann (Client): The trip was very pleasant. I had a wonderful guide who answered all my questions. We saw areas where probably no European tourists were and I enjoyed the authenticity, the cities are cities no matter where you go, the museums are museums, the countryside is real and you can only experience that by going there.  For example, orchids are very expensive in Europe and they rarely grow in the countryside. Here I saw a lot of them as well as other plants not found in Europe. So I really enjoyed this trip, it was relaxing.
Carlos (Guide): We followed the planned itinerary but actually Mr. Hofmann had not imagined this trip exactly as he experienced it, he did not expect to see everything he saw and everything went very well.

VLA: What did this trip mean to you?
Mr Hofmann (Client): First of all, this trip gave me a complete change of scenery. I discovered regions that were completely new to me.  I was far away from home and I didn't hear about everything that was going on there. As I said, the areas I went to had probably never seen other European tourists. I enjoyed the beaches. I saw picturesque hotels that would never exist in Europe like the San Agustin, or the Pimán for example. And that's why I made this trip.
Yvonne Hinner (On Tour Agency): For me, as a professional, every booking is important, especially in these times. It was a great pleasure to organise this trip, to plan it and to have time for my work after a year of inactivity. Even though it's still extremely quiet compared to usual, it's nice to see that people haven't lost their desire to travel and are still coming to find out more.
Leonardo Castillo (Quimbaya Tours): This trip has strengthened my vocation for organising trips and welcoming visitors to my country. It gave me hope and made me feel that at the end of the tunnel there will always be a light to show us the way.
Carlos (Guide): This trip for me meant a return to activity, I had been on standby for a year and I really needed it in every way. This is my passion, I really love what I do and I would like to continue guiding and accompanying travellers for many years to come to discover my country, this little corner of the world.
VLA: What message do you have for travellers who want to go to Ecuador? 
Leonardo Castillo (Quimbaya Tours): Ecuador is a small country, with an exceptional natural wealth. Despite all the current difficulties, we remain open to the world.  We are one of the first countries to have started implementing biosecurity processes and we have already started a major vaccination campaign. I invite you to visit our country. We are a team of professionals who will always be available to offer you an amazing experience and unforgettable travel moments.
Yvonne Hinner (On Tour Agency): Don't be afraid to visit the destination of your dreams. You will be surprised how great it can be. Especially at a time like this, when it is not flooded with waves of tourists.
Carlos (Guide): My message to people who want to come to Ecuador: don't think too much, don't think twice. We will organise the best and safest trip! Our hotels are ready to welcome you. So welcome to Ecuador. We are waiting for you.
Mr. Hofmann (Client): My advice to other travellers is manifold. Firstly, don't believe everything you read. Find out about the country and the places you want to visit and go there!
If you want to do part of the Amazon, do the Manatee. If you want to see beautiful beaches, then you should look for the one that suits you best. The other thing I would advise every traveller to do is not to stay on the beaten track where millions of other tourists have already been.
And above all, don't be afraid to travel, especially here in Ecuador, all the people I met were friendly, polite, and had a good sense of humour. I had no trouble getting around and always felt safe wherever I went.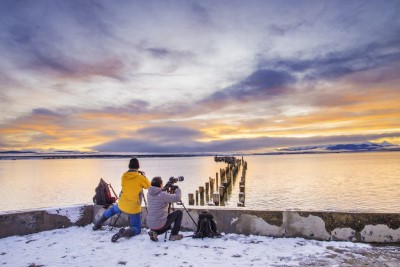 LATAM NEWS Sernatur launches the "Turismo todo el año" campaign in the Magallanes region and in the Chilean Antarctic With the aim of extending the season and boosting tourism during the autumn and winter seasons, the Chilean tourism promotion agency (Sernatur) of the...
read more