New air link between San José and Bocas del Toro
Costa Rican airline SANSA has just inaugurated a new direct air route linking San José, the capital of Costa Rica, to Bocas del Toro, one of Panama's most popular tourist destinations. The route, which has been operational since 16 November, marks a significant development in regional connectivity, offering travellers a fast and convenient travel option between these two Caribbean destinations.
Route details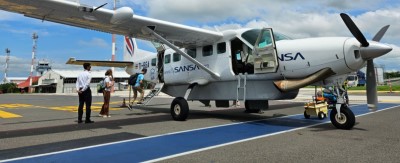 The flights will be operated by Cessna Grand Caravan aircraft carrying up to 12 passengers. Flight time is approximately 55 minutes, with a frequency of two flights per week on Thursdays and Sundays.
Flight schedule:
Flight: San José (12:30) to Bocas del Toro (13:25)
Flight: Bocas del Toro (15:15) to San José (16:10)
Bocas del Toro: A jewel of Panama
Bocas del Toro is a must-see destination in Panama, famous for its idyllic beaches, picturesque islands and rich biodiversity.
San José : Gateway to Costa Rica
San José, the bustling capital of Costa Rica, is known for its vibrant mix of modern culture and tradition. The city serves as an ideal base from which to explore Costa Rica's natural and cultural riches, including its cloud forests, volcanoes and exotic wildlife.
The new air link between San José and Bocas del Toro, operated by SANSA, represents a significant step forward for tourism in Central America. The route significantly improves flexibility and accessibility for travellers wishing to explore these iconic destinations.
Photo credits: Sansa Airlines
DESTINATIONS Bariloche: Escape to Argentina's Patagonia, between mountains and lakesIn the heart of Argentina's northern Patagonia, San Carlos de Bariloche, commonly known as Bariloche, is a destination that harmoniously combines grandiose nature and cultural...
read more