Origins of Tango: from Argentina to Europe via Africa
Text by Oscar Aguirre Gomez, first published in www.elcafelatino.org
Of incomparable variety, the Latin American music  is capable of provoking reminiscences among Latin Americans to the depths of their souls.
Tango, with more than a century of history and tradition, is and will remain a genre of popular and folk music that stands out for the beauty of its music and the elegance of its dance.
Thanks to its composers and musicians as well as its inspired singers, tango has found an everlasting and attentive ear in the Bohemian community.
History of tango
Welcomed by some, criticized by others, tango is the universal king. It is a Latin American dance, of African origin, similar to the habanera. The origin of the word "tango" may come from an onomatopoeia. The Porteno (Buenos Aires city) districts saw the development of certain trends and forms of tango with their own characteristics that evolved after the First World War. Afterwards, tango spread around the world as a ballroom dance. The Cuban Contradance also influenced this genre.
Tango was not always well regarded in certain social classes. Although it was immediately successful in the dance halls of Europe and North America, it also provoked the indignation of religious authorities, who were shocked by the eroticism of its movements. The ancient tango melodies have not fallen into oblivion; on the contrary, time has not altered their splendour in any way. Such famous tangos as Percal, Cuartito azul, Caminito, A media luz, Uno, La cumparsita are still very much alive. La cumparsita is the tango par excellence. It is said to have been inspired by a university march… It has been performed innumerable times by the legendary orchestras of Francisco Canaro, Enrique Rodríguez, Alfredo de Angelis, José García, Rodolfo Biagi, Miguel Caló, Héctor Varela, Aníbal Troilo, Domingo Federico and Edgardo Donato.
I would like to point out that tango, which is much more authentic than most of today's music, is experiencing a new lease of life. Nevertheless, some circles do not appreciate it, perhaps because they do not know it, in other words, its melody does not thrill them. To learn to appreciate it, they could start by listening to: El tango de la rosa; Tango azul; El escondite de Hernando; Jalousie; Puzta; Cabecita; El choclo; El amanecer; Danzarín; Nocturna, La trampera; Derecho viejo; Inspiración; Taquito militar; El amanecer; Dibujos, etc.
Popular music is becoming less and less rich, both in terms of creation and interpretation. This phenomenon also affects tango, which has long since adopted a new face thanks to its modern creators. But that's another subject. If we take the side of those who are in favour of tango's evolution, we can say that we lack genius composers who take the rhythms, melodies and harmonies of this musical genre and turn them into symphonic or chamber music works that would highlight the depth of their content.
It is interesting to know that Borges did not like tango, he preferred the milonga. He couldn't stand Gardel, who was for him "a character who had, in a way, violated the tango". The Argentinian writer was not the type "to sit and listen to music. According to his widow, he didn't like Beethoven, for example. He said he made too much noise… Neither did Chopin: he was too sentimental…". Unbelievable but true. What would he have said about Mozart?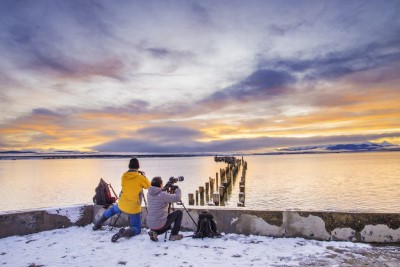 LATAM NEWS Sernatur launches the "Turismo todo el año" campaign in the Magallanes region and in the Chilean Antarctic With the aim of extending the season and boosting tourism during the autumn and winter seasons, the Chilean tourism promotion agency (Sernatur) of the...
read more