"Ready to fly' soon a reality?
The International Air Transport Association (IATA) has developed industry standards that will bring the goal of having travellers arrive at airports ready to fly a little closer to reality. The recently published Recommended Practice on Digitising Eligibility will allow travellers to digitally prove their eligibility for an international destination, avoiding a stop at the check-in counter or gate for document control.
As part of the One ID initiative, airlines are working with IATA to digitise the passenger experience at airports through contactless biometric processes.
Similar programmes are already in use at several airports, and offered by some airlines such as Air France, allowing travellers to go through airport processes, such as boarding, without producing paper documents, as their boarding pass is linked to a biometric identifier. But in many cases, travellers still have to prove their eligibility at the check-in counter or at the boarding gate by physically checking paper documents (e.g. passports, visas and medical certificates).
The digitisation of admissibility standard will advance the realisation of single sign-on with a mechanism that allows passengers to obtain all necessary pre-travel authorisations directly from governments in a paperless manner and on their smartphones. By sharing the "OK to Fly" status with their airline, travellers can avoid all document checks at the airport.
"Passengers want technology to simplify their travel. By allowing passengers to prove their eligibility to their airline before they arrive at the airport, we are taking a big step forward. IATA's recent global passenger survey found that 83% of travellers are willing to share immigration information for expedited processing. That's why we are confident that this option will be popular with travellers when it is implemented. Airlines and governments will also benefit by improving data quality, streamlining resource requirements and identifying admissibility issues before passengers arrive at the airport," said Nick Careen, IATA Senior Vice President for Operations, Safety and Security.
What travellers will be able to do in the future:
– Create a verified digital identity using their airline's app on their smartphone;
– With their digital identity, they will be able to send all the required documents to the authorities in the destination country before travel;
– Receive a digital "entitlement approval" in their digital identity/passport application;
– Share the verified ID (not all their data) with their airline;
– Receive confirmation from their airline that everything is in order and proceed to the airport.
Data security
The new standards have been developed to protect passenger data and ensure that travel remains accessible to all. Passengers retain control of their data and only credentials (verified authorisations) are shared peer-to-peer. The system is interoperable with International Civil Aviation Organisation (ICAO) standards, including those for the digital travel card. Manual processing options will be maintained so that travellers have the option to decline digital entitlement processing.
"Travellers can be assured that this process will be both convenient and secure. A key point is that information is shared on a need-to-know basis. While a government may request detailed personal information to issue a visa, the only information that will be shared with the airline is that the traveller has a visa and under what conditions. By leaving the passenger in control of their own data, we do not create large databases to protect. By design, the system is simple, secure and convenient," said Louise Cole, head of customer experience and facilitation at IATA.
Timatic
An existing programme, Timatic, developed by IATA already enables unique identification by providing airlines and travellers with reliable information on entry requirements. The integration of this programme into the entry conditions registration model is accompanied by an established process for the collection, verification, updating and distribution of this information on a global scale.
Source: IATA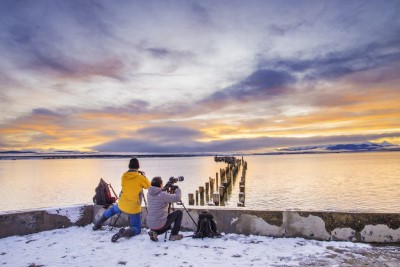 LATAM NEWS Sernatur launches the "Turismo todo el año" campaign in the Magallanes region and in the Chilean Antarctic With the aim of extending the season and boosting tourism during the autumn and winter seasons, the Chilean tourism promotion agency (Sernatur) of the...
read more