Return of the cruises in Colombia
The Star Breeze docked at the Cartagena de Indias cruise terminal on Tuesday 24 August, the first to call at a Colombian and South American port in almost 17 months due to the Covid-19 pandemic.
The small luxury cruise ship with a capacity of 312 passengers and 164 crew from Windstar Cruise, which operates in Europe, the South Pacific, the Caribbean and Central America, marks the long-awaited recovery of this hard-hit industry.
The city's mayor, William Dau, said that this recovery is the result of a long process of joint work between the health, maritime and tourism authorities, as: "We must be very careful not to make any false moves, as this could cost us the cruise market".
For his part, Gilberto Salcedo, vice-president of tourism in Procolombia, stressed that for the 2021-2022 season: "26 cruise lines will arrive in Cartagena de Indias. This is equivalent to a recovery of 57% of what we had in the pre-pandemic".
Additional health measures
The cruise lines have adopted rigorous measures supported by science, such as: physical separation, pre-boarding health questionnaires, health declarations, mandatory use of masks, daily temperature taking, dedicated isolation cabins, on-board rooms to assist critically ill passengers, cleaning and disinfection protocols, hand washing, signage, strict adherence to shore-based protocols in ports of call, among others.
With the approval and support of local and regional authorities, the companies have reduced the number of seats in restaurants, do not have self-service restaurants, offer 24-hour room service, guarantee 100% fresh air supply, implement rapid response protocols, medical staffing on board, more qualified personnel to provide care for Covid-19 cases, among others.
The Cartagena de Indias cruise terminal
The 2021-2022 season, which begins on 24 August and ends on 14 June, has 123 calls that will bring 322,202 visitors (214,906 passengers and 107,296 crew members) to the city. The most important companies operating in the region Princess Cruises, Royal Caribbean, HollandAmerica, Celebrity Cruises, Norwegian Cruise Line, Aida Cruises, MSC Cruises, Marella Cruises, Windstar Cruises, Regent Seven Seas, among others. Ritz-Carlton Yacht Collection and Aura Expeditions have confirmed their presence for this season.
It is worth mentioning that Cartagena de Indias is the leading cruise port in Colombia. During the 2018-2019 season, it welcomed nearly 620,000 visitors from 34 cruise lines, with an economic impact of nearly USD 70 million.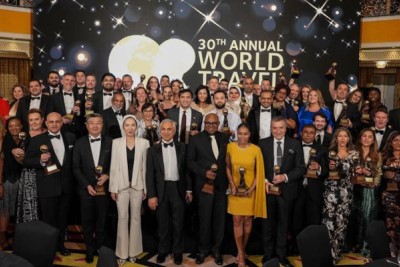 LATAM NEWS World Travel Awards 2023: Chile and Peru shine on the world stage Latin America continues to establish itself as a leading tourism destination, as the results of the 30th World Travel Awards show. At the ceremony held in Dubai on December 1, Peru and Chile...
read more