Safeguarding the Manabita gastronomic heritage thanks to the "Iche" school
Shrimp, fish and a touch of lemon, served with toppings and peanut paste, all accompanied by steaming viche: this is an ancestral dish from Manabí.
In this province on the Ecuadorian coast, where gastronomy is the tourist attraction, giant steps are being taken to give its traditional recipes a universal and modern touch, without losing its traditional know-how.
With this objective in mind, the "Iche" gastronomic and hotel school project was created in the canton of San Vicente (north of Manabí), which is currently welcoming its first students. It consists of 14 enthusiastic young people who have inherited delicious and complex recipes from their families, to which they want to give a universal touch to bring them up to the level of international gastronomy.
Therefore, with ingredients and a knife in hand, they add flavour and shape. "Each student is a box of surprises, they have a wealth of knowledge inherited from their grandmothers. We are dusting off those little secrets they had kept from our gastronomic culture," said Valentina Alvarez, chef of this new school.
"Iche's philosophy is to learn by doing. Let's not forget that Manabí food is already recognised at a national level, what we want is to take it to another level, to become an international culinary destination," said Orazio Belletini, executive director of the Fuegos Foundation, which initiated the project.
By the end of May, the school will go further and open a restaurant-school, which will be run by the students themselves, applying the knowledge they have acquired.
The students come from Pedernales, Jama, San Vicente and Sucre, populations that are still in a phase of economic reactivation. They receive theoretical and practical training, divided into two groups and following biosecurity measures to avoid the contagion of Covid-19.
They learn about gastronomy, leadership, entrepreneurship, culture and heritage. This is a sustainable and innovative project.
"It is a great responsibility for us, as trainees, to be ambassadors of the new Manabí cuisine", says Jessica Medina, one of the students of this first class.
At the end of the course, which will last seven months, the students will have to carry out internships of at least one month, during which they will be able to apply what they have learnt and delight their guests.
In this project to preserve Manabí cuisine, the emphasis is on the consumption of organic products and the reappropriation of past traditions such as heras (organic vegetable gardens, located in gardens or pots hanging from balconies or windows).
This project was made possible by the Italian-Ecuadorian Fund for Sustainable Development (FIEDS), the Provincial Government of Manabí, the Alliance for Entrepreneurship and Innovation (AEI) and the Eloy Alfaro Laica University of Manabí. It is also supported by the Mancomunidad Pacífico Norte de Manabí – MANPANOR.
Source: Ministry of Tourism of Ecuador & Fuego Foundation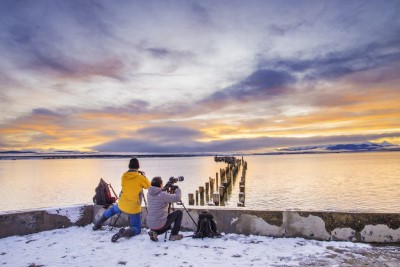 LATAM NEWS Sernatur launches the "Turismo todo el año" campaign in the Magallanes region and in the Chilean Antarctic With the aim of extending the season and boosting tourism during the autumn and winter seasons, the Chilean tourism promotion agency (Sernatur) of the...
read more