Tourism in the Galapagos: preserving the fragile balance
The Galapagos Islands, some 1,000 km off the coast of Ecuador, are a treasure trove of biodiversity, having played a key role in the development of Charles Darwin's theory of evolution. However, this natural Eden is now under threat from the growing influx of tourists.
In its 2023 state of conservation report, UNESCO expressed concern about the growth of unorganised tourism in the archipelago. Back in 2007, the organisation placed the Galapagos on its list of World Heritage in Danger, mainly due to the impact of tourism and overfishing. Although removed from this list in 2010, visitor arrivals have continued to rise, with an increase of almost 60% between 2010 and 2019.
The growth of land-based tourism, in particular, poses a major problem. Unlike ship-based tourism, which is subject to strict regulations, land-based tourism has seen unprecedented growth, exacerbated by an increase in the number of hotels and rentals available.
The consequences of this growth are not just ecological. The influx of tourists also has socio-economic repercussions, leading to increased migration to the islands and increasing pressure on local resources. In addition, the introduction of invasive species, often accompanying the arrival of new visitors, threatens the endemic flora and fauna.
Faced with these challenges, close collaboration between the Ecuadorian authorities, tourism operators and conservation organisations is essential. Concrete measures, such as limiting the number of visitors, introducing strict ecological standards and raising awareness among travellers, are needed to guarantee a sustainable future for tourism in the Galapagos.
The IGTOA (International Galapagos Tour Operators Association) is playing an active role in this process. This August, the association will be taking part in a workshop on regenerative tourism organised by the Galapagos National Park, aimed at developing recommendations for more sustainable tourism. The IGTOA has also called for an increase in park entrance fees, which have not been reviewed for decades, in order to fund bio-security and park management.
Despite their beauty and ecological importance, the Galapagos Islands are at a crossroads. The measures taken today will determine not only the future of this unique natural paradise, but also the ability of future generations to discover its treasures.
Discover the winning video from the first edition of the Ecuador Film Residency – Galápagos by Kristofh Pozo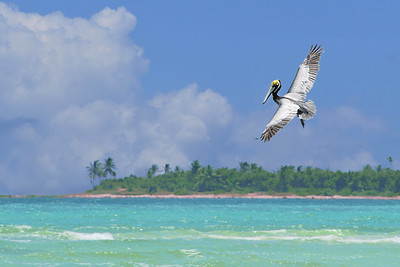 DESTINATIONS Sian Ka'an: Where the sky meets the earth in Yucatán Located on the east coast of the Yucatán peninsula, some twenty kilometres from Tulum, the Sian Ka'an Biosphere Reserve is a treasure trove of biodiversity. Its name, which means "where the sky was...
read more