LES INFOS DU SECTEUR TOURISTIQUE
UNWTO: Data show full recovery in international tourism
International tourism is on track to return to pre-pandemic levels, with twice as many travellers in the first quarter of 2023 as in the same period in 2022.
What the new UNWTO data tell us
This year's second issue of the UNWTO World Tourism Barometer shows that in 2023, the rapid recovery of the sector continues:
Overall, international arrivals in the first quarter of 2023 have reached 80% of their pre-pandemic level.
There were an estimated 235 million international tourists in the first three months of 2023, which is more than double the number for the same period in 2022.
Tourism continues to prove its resilience. According to revised data for 2022, there were over 960 million international tourists last year, two-thirds (66%) of the pre-pandemic volume.
Recovery by region in the first quarter 2023
The Middle East shows the strongest performance. It is the only region to exceed its 2019 arrival level (+15%) and the first to return to pre-pandemic levels for a full quarter.
Europe reached 90% of its pre-pandemic level, thanks to strong intra-regional demand.
Africa is back to 88% and the Americas to around 85% of their 2019 levels.
Asia-Pacific has recovered more strongly to 54% of pre-pandemic levels, but this upward trend is expected to accelerate now that most destinations have reopened, particularly China.
The UNWTO data also analyses the recovery by sub-region and destination. Southern Mediterranean Europe and North Africa have also recovered to pre-pandemic levels in the first quarter of 2023, while Western Europe, Northern Europe, Central America and the Caribbean have all almost reached these levels.
What can be inferred from this
UNWTO Secretary-General Zurab Pololikashvili said: "The start of this year is another example of tourism's unparalleled ability to rebound. In many places, arrivals are close to or even above pre-pandemic levels. However, we must remain vigilant to challenges such as geopolitical insecurity, staff shortages and the potential impact of the cost of living crisis on tourism, ensuring that as tourism recovers it lives up to its responsibilities as a solution to the climate emergency and as a driver of inclusive development."
International tourism receipts have rebounded, crossing the USD 1 trillion mark in 2022, up 50% in real terms from 2021, thanks to a strong recovery in international travel. International visitor spending has reached 64% of pre-pandemic levels (-36% compared to 2019, measured in real terms). By region, Europe performed best in 2022, with nearly USD 550 billion in tourism receipts (EUR 520 billion), or 87% of pre-pandemic levels. Africa recovered 75% of its pre-pandemic revenue levels, the Middle East 70% and the Americas 68%. Due to prolonged border closures, Asian destinations came in at around 28% of revenues.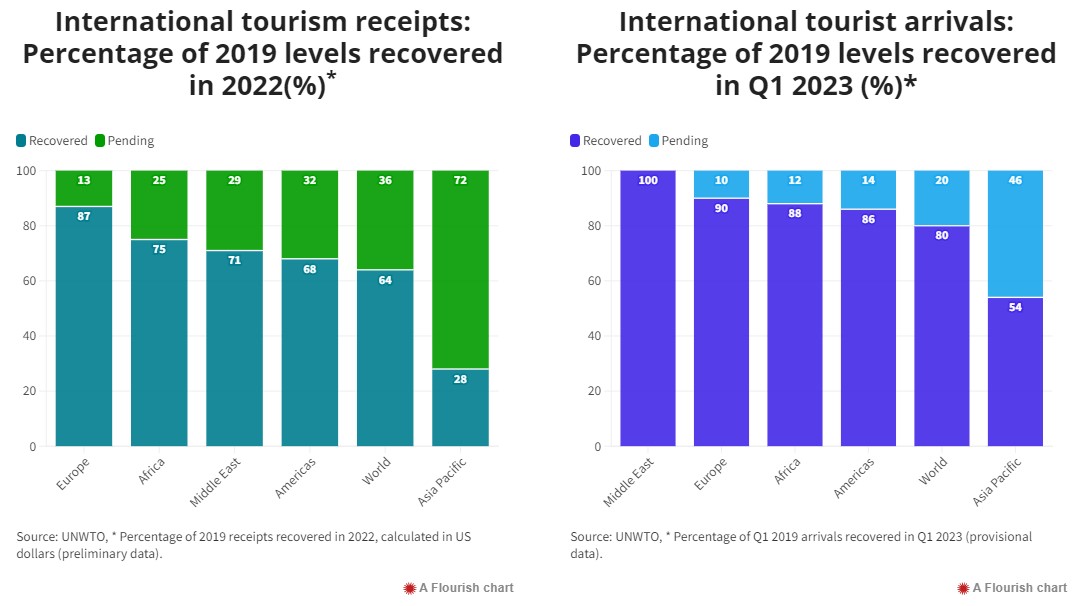 What's next?
The results for the first quarter of 2023 are in line with UNWTO's forecast scenarios for the year, which predict that international arrivals will return to 80% to 95% of their pre-pandemic levels. The UNWTO panel expected strong performance in the peak season (May-August) in the northern hemisphere, as reflected in the latest UNWTO confidence index, which suggests that performance in this period is likely to be even better than in 2022.
However, the tourism recovery is also subject to a number of challenges. According to the UNWTO expert group, the economic situation remains the main factor affecting the effective recovery of international tourism in 2023, as high inflation and rising oil prices increase transport and accommodation costs. It is expected that tourists will increasingly pay more attention to value for money and travel closer to home. The uncertainty caused by the Russian Federation's aggression against Ukraine and the rise of other geopolitical tensions also continue to pose downside risks.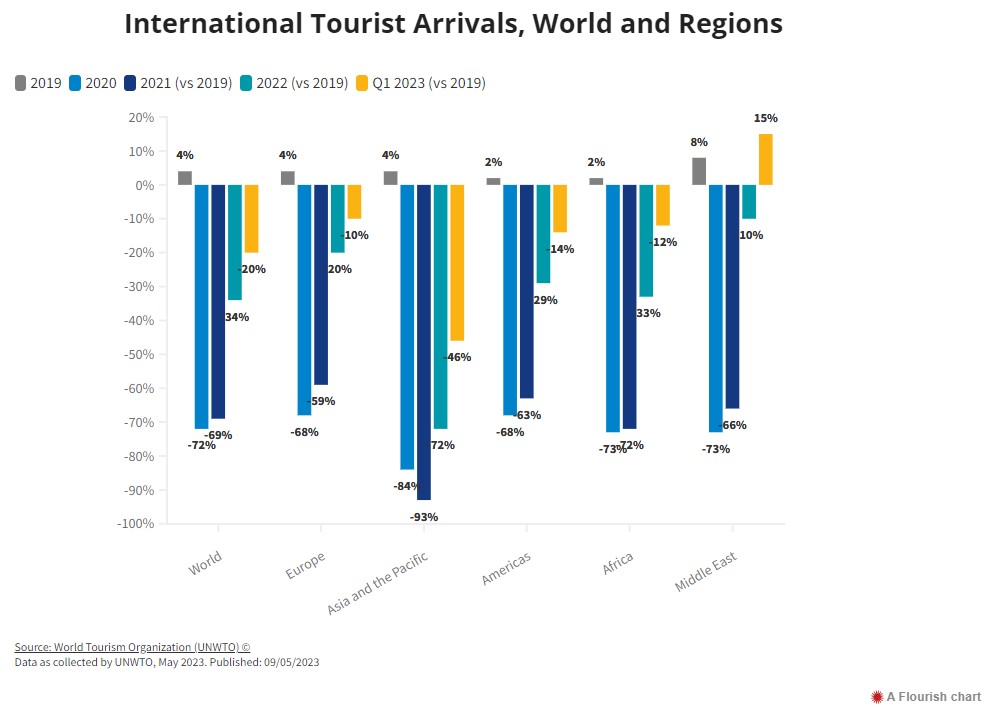 LATAM NEWS Riobamba: the heart of Ecuador   In Ecuador, heritage sites occupy a central place in daily life, as the history, customs, traditions, gastronomy and charm of the local population offer authentic travel experiences. A fine example is Riobamba, which offers...
read more