Arequipa: Peru's splendour and must-sees
Nestling at an altitude of over 2,300 metres, Arequipa, Peru's second-largest city, is revealed in all its grandeur, framed by the Misti, Chachani and Pichu Pichu volcanoes. These natural giants offer breathtaking panoramic views, while the city itself charms with its cultural and historical heritage.
The architecture of the "White City"
Arequipa's skyline is marked by sillar, a white volcanic stone that gives its buildings a special sparkle. This architectural signature, combined with a rich cultural heritage, makes Arequipa an essential stop-off point for anyone seeking to immerse themselves in authentic Peru. Its historic centre, with its colonial buildings, churches and convents, is a living testimony to the Spanish influence.
Must-sees in Arequipa
Convent of Santa Catalina: More than just a convent, Santa Catalina is a religious city covering almost 20,000 m². Founded in 1579, the convent was self-sufficient for almost four centuries. Its narrow streets, colourful patios and cloisters are reminiscent of a small Andalusian town. The ochre, blue and white walls, arches and vaulted passageways create a peaceful and mystical atmosphere. It's a real plunge into Arequipa's colonial past.
Plaza de Armas: This central square is one of the most beautiful in Peru. Surrounded by porticoes and dominated by Arequipa Cathedral, it is the lively heart of the city. Palm trees and fountains add to its charm, and it's a great place to relax, admire the architecture and watch the everyday life of the locals.
San Lázaro district: This is where the city of Arequipa was founded. This picturesque district is made up of narrow cobbled streets, white houses and flower-filled patios. As you stroll around, you can feel the history and soul of Arequipa, with its traditional houses adorned with wrought-iron balconies and its small shady squares.
Mirador de Yanahuara: Located just a few minutes from the city centre, this lookout point offers a breathtaking panoramic view of the city and its volcanoes. The sillar arches of the viewpoint are engraved with quotations and verses by local poets, adding a romantic dimension to the place. It's the ideal spot for a souvenir photo.
Museo Santuarios Andinos: This museum is famous for housing Juanita, also known as "La Niña de los Hielos". Discovered in 1995 near the summit of the Ampato volcano, this Inca mummy is one of the best preserved in the world. It is a poignant testimony to the rituals and beliefs of the Inca Empire. The museum also features other artefacts and objects offering a fascinating insight into the region's pre-Columbian history.
Adventures around Arequipa
For nature lovers, Arequipa is an ideal base from which to explore wonders such as the Colca Canyon and the Salinas y Aguada Blanca national reserve. Whether it's watching condors in flight or admiring vicuñas in their natural habitat, the region offers unforgettable experiences.
Arequipa is much more than just a stopover: it's an invitation to discover, savour and marvel. Every street corner, every mountain and every smile offers a different facet of this magnificent city, making Arequipa a must-see destination in Peru.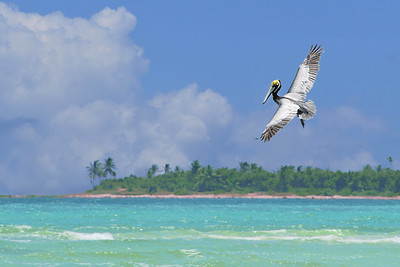 DESTINATIONS Sian Ka'an: Where the sky meets the earth in Yucatán Located on the east coast of the Yucatán peninsula, some twenty kilometres from Tulum, the Sian Ka'an Biosphere Reserve is a treasure trove of biodiversity. Its name, which means "where the sky was...
read more