Interview with Antoine Cros, Air France Sales Manager for Central America and the Dominican Republic
Visit Latin America: In November AIR France and the organisation in charge of the promotion of tourism in Panama (Promtur), signed an agreement, can you explain what it is?
This contract between Air France and Promtur is for a period of 6 months, during which Air France undertakes to give visibility to the destination Panama on the French market, on our digital media: our merchant website airfrance.fr (3 million visitors per week, 100 plane tickets sold every minute), App Air France (more than 2.3 million users), dedicated emails on the destination Panama (1.2 million recipients), setting up of a visual on Facebook (3 million members) All communication material is provided by Promtur.
VLA: Does the company plan other alliances with other state tourism promotion bodies in the region? If so, which ones?
Air France had an agreement with the Dominican Republic for free tickets to organise Eductours. Other countries in the area give us marketing budgets to do joint communications.
VLA: For almost two decades, the Air France group has been working on the subject of sustainable development, particularly through the renewal of its fleet. What is the objective for the whole of Latin America and how long will it take?
For several years now, the Air France-KLM group has been working and investing in more responsible travel, and fleet renewal is one of the main areas of work, knowing that a Boeing B787 or an Airbus A350 can reduce fuel consumption by 25%. Air France operates A350s in San Jose and B787s in Bogota and KLM operates B787s in San Jose, Panama and Bogota.
At the same time, Air France recycles packaging and eliminates plastic on board wherever possible, and fights against food waste. In addition, the Air France-KLM group is increasing the use of new fuels that emit less CO₂: Derived from non-fossil sources, sustainable aviation fuels (or SAF, Sustainable Aviation Fuel) allow a reduction in CO₂ emissions of 80% on average over their life cycle.
We also offer a CO2 offset programme that KLM reinvests in a reforestation project in Panama: 'CO2OL Tropical Mix'. Every year the Air France-KLM group issues a report detailing its progress.
VLA: The use of Sustainable Fuels (SAF) is also a major issue. Do you think that beyond the objective of decarbonising air transport, the current rise and volatility of the price of fossil paraffin can be an accelerator for this transition and thus make the sector less dependent?
The volatility of the price of paraffin is not a recent phenomenon, the current rise has led to an acceleration in the renewal of our fleet. But SAF remains much more expensive than paraffin, its use is a political choice that is constrained by a still limited production.
VLA: What are your favourite destinations in Central America and why?
I don't feel comfortable answering this question, I have a much too biased view of Central America. All the countries in Central America are very different from each other, but all of them offer a huge variety of beaches, unique and rich flora and fauna, and contact with very different cultures. Central America is a part of the world full of magical places where a lot remains to be discovered.
VLA: What message do you have for the tourism industry?
The Air France-KLM group continues to invest in Central America, with 1 daily flight Paris-Panama, 5 weekly flights Paris-San Jose, 6 weekly flights Amsterdam-Panama and 4 weekly flights Amsterdam-San Jose. In Panama, our commercial agreements with Copa allow us to offer our passengers the entire Copa network in America. Central America is still not well known, and we need to make this region the reference destination for adventure tourism and green tourism.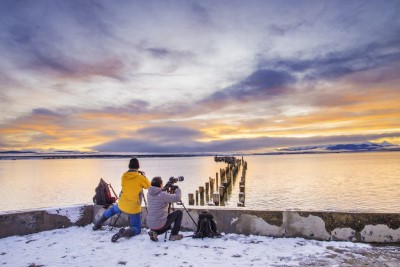 LATAM NEWS Sernatur launches the "Turismo todo el año" campaign in the Magallanes region and in the Chilean Antarctic With the aim of extending the season and boosting tourism during the autumn and winter seasons, the Chilean tourism promotion agency (Sernatur) of the...
read more