Two luxury cruises to sail the Magdalena River in Colombia
From 2024 onwards, the first luxury river cruise ships will sail on the Magdalena River – the most important river in Colombia – and they will be operated by AmaWaterways, an American company specialising in this sector, which has chosen the South American country as the first market on the continent to launch this project, since until now the company has only operated in Europe, Africa and Asia.

The two ships, AmaMagdalena, which will set sail on 30 March 2024, and AmaMelodia, which will depart on 19 June 2024, will sail to the destinations of Cartagena, Barranquilla, Mompox, El Banco, Calamar, Magangué, Santa Bárbara de Pinto, Nueva Venecia and Palenque. The first ship has a capacity of 60 people, while the second has a capacity of 64 guests.
"Everything from the design of our two stunning vessels to the immersive itineraries we have chosen reflects our pioneering spirit and mission to provide our guests with quality accommodations, warm and welcoming amenities, locally inspired cuisine and enriching experiences that interact with the local communities along this fascinating river," said Kristin Karst, co-founder and executive vice president of AmaWaterways, before adding: "We are extremely grateful to our travel consultant partners and loyal customers who continue to support us and are as excited as we are to discover this new continent for river cruises. "
Rudi Schreiner, co-founder and president of AmaWaterways, said, "We are absolutely thrilled that two beautiful ships are joining our growing fleet of 26 award-winning river cruise ships, and we are sharing details of the new itineraries sailing between Cartagena and Barranquilla along the Magdalena River. Having visited and fallen in love with this region, we are delighted to offer our guests the opportunity to experience Colombia's vibrant culture, unique traditions and natural beauty."
The ships aim to offer river cruise experiences with luxurious accommodation and panoramic views. The cabins range in size from 22 to 48 square metres and all feature AmaWaterways' exclusive double balcony, with a French balcony and an outside balcony. In addition, each ship has a swimming pool, a spa and a fitness centre.
"We are delighted that AmaWaterways has chosen the Magdalena River to launch a river cruise, the first of its kind in the history of the Colombian tourism industry. When the trips begin in 2024, the small towns along the waterway will be able to show international travellers their immense beauty and natural and cultural diversity," said Arturo Bravo, Colombia's Vice Minister of Tourism.
Carmen Caballero, President of ProColombia, explained that: "In addition to the immediate benefits that these important trips will have on the social and economic development of our territories, it is worth mentioning that AmaWaterways is looking to supply its ships with products made in Colombia. This means that we also have the opportunity to complement our diversified exportable offer and integrate it into the tourism production chain. Overall, this is great news for Colombia."
From spring 2024, guests will be able to choose between two seven-night itineraries, 'Magic of Colombia' and 'Wonders of Colombia'.
Sailing between Cartagena and Barranquilla, these two routes offer unforgettable experiences. The highlights of these two routes are as follows: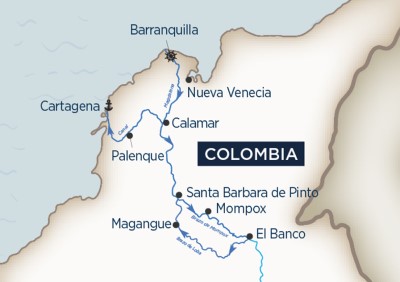 – Discover the soul and spirit of the "Land of a Thousand Rhythms" during a special Carnival celebration in Barranquilla with performances reserved for AmaWaterways guests.
– Explore the country's most fascinating cities on historic walking tours in destinations such as Mompox, a UNESCO site that retains its colonial charm, where guests will be greeted by an exclusive jazz performance.
– Birdwatching tours will captivate visitors with more than 1,900 species of birds, including the Cianeguo and Chauna chavaria hummingbirds, found only in Colombia.
– Visit Palenque, the first "free city" in the Americas, where visitors can dance to world-renowned musical styles such as cumbia and vallenato on a historic "Drumming and Freedom" tour.
– Board the "Paola", Calamari's main means of transportation.
– Admire the natural beauty of the great Magdalena basin, home to many species of flora and fauna found nowhere else on the planet.
Excursions to Medellin and Cartagena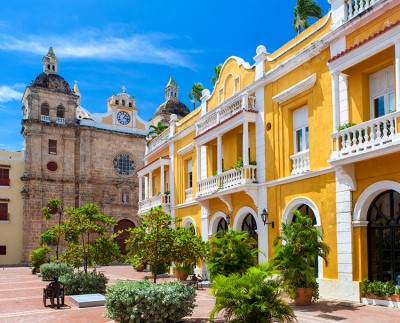 While in Colombia, travellers will have the opportunity to extend their trip with optional pre-cruise land packages in Medellin and Cartagena, and post-cruise in Panama City.
In Medellin, guests can start their trip with a three-night stay in Colombia's second largest city. They will enjoy the flavours of Medellin's famous coffee and cuisine during a tour and tasting of the coffee region, as well as its unique heritage with friendly guides and locals of diverse backgrounds who live beyond the river's banks. Combining innovation and history, travellers will witness the city's incredible transformation as they visit neighbourhoods such as Comuna 13.
The company's two-night pre-cruise land package in Cartagena de Indias will allow travellers to immerse themselves in the city's history and heritage. Travellers will be inspired by the city that has withstood the test of time and pirate plunder with a walking tour of the walled city, and will be amazed by excursions to the Gold Museum, the Caribbean Naval Museum and the Castillo de San Felipe.
 

 

Voir cette publication sur Instagram

 
Source: AmaWaterways
Interviews David Kianni, General Manager of the Sofitel Legend Casco Viejo in Panama Visit Latin America: Can you introduce us to the Sofitel Legend Casco Viejo? Sofitel Legend Casco Viejo, Panama is a historic place which blends French elegance with the...
read more