UNWTO Best Tourism Villages Ceremony
The Best Tourism Villages 2022 ceremony was held in Alula, United Arab Emirates, with the central message being the importance of tourism for rural development.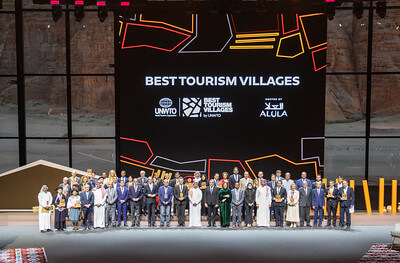 The Best Tourism Villages initiative is one of the pillars of the UNWTO Tourism and Rural Development Programme. Each year, UNWTO honours destinations that stand out for their commitment to sustainability in all its dimensions – economic, social and environmental – and the preservation and promotion of community values.
In addition to the ceremony, there was the first annual meeting of the Best Tourism Villages network, a platform for the exchange of knowledge and experience. During the meeting, the villages discussed challenges, opportunities and work plans for the coming year.
For rural populations around the world, tourism is an important engine of growth and opportunity.
UNWTO Secretary-General Zurab Pololikashvili said: "For rural people around the world, tourism is an important engine of growth and opportunity. The 'Best Tourism Villages by UNWTO' initiative puts the spotlight on those destinations that really benefit from tourism to create jobs, support businesses or preserve local heritage. We are determined to grow our network of Best Tourism Villages both in size and influence. "
"We are delighted to host the UNWTO Best Tourism Villages 2022 ceremony in Saudi Arabia this year. This is an opportunity to showcase the rich history and heritage of our country to participants and guests," said H.E. Ahmed Al Khateeb, Minister of Tourism of the Kingdom of Saudi Arabia.
Among the 32 destinations awarded during this ceremony, 7 Latin American villages were distinguished: Aguarico and Angochagua in Ecuador, Choacho in Colombia, in Mexico the villages of Creel and El Fuerte and in Peru, Lamas and Raqchi. In addition, 8 other destinations in the region were included in the UNWTO programme.
LATAM NEWS7th UNWTO World Wine Tourism Conference: Looking to the futureThe 7th World Wine Tourism Conference, organised by the World Tourism Organisation (UNWTO), was recently held in the Rioja region of Spain. This major event brought together experts from over 40...
read more