Created by Quimbaya Latin America, Visit Latin America is the showcase for promotion to all tourism professionals, addressing important and updated information they need about the 11 different travel destinations in Latin America.
Exclusively BtoB, Visit Latin America operates in partnership with tourism businesses and tourist offices who had chosen to circulate their products and destinations throughout travel agencies which are part of Quimbaya Latin America network, more than 11,000 contacts in Europe, Asia, United States and Canada.
VISIT LATIN AMERICA PROVIDES :
A selection of tourism businesses
hotels, boutiques, restaurants, tourist offices. Each of these businesses have a personalized web page highlighting descriptions, pictures and contacts. You can find them by destination.
One guide for each destination
The highlights through the best tips to assist all tourism professionals to organize the finest travel itineraries for their clients.
video recording, cultural news and actuality
Cultural activities on each destinations and to know everything on America Latina and its actuality.
A bilingual magazine (English-French) published twice a year (spring/summer and fall/winter) in hardcopy – 6,000 copies – and online version.
The hardcopy version is issued free of charge and distributed to tourism professionals of Quimbaya Latin America network. The online version is accessible without user code.
The magazine offers news stories, interviews essentially focused on all you need to know for a successful trip to Latin America.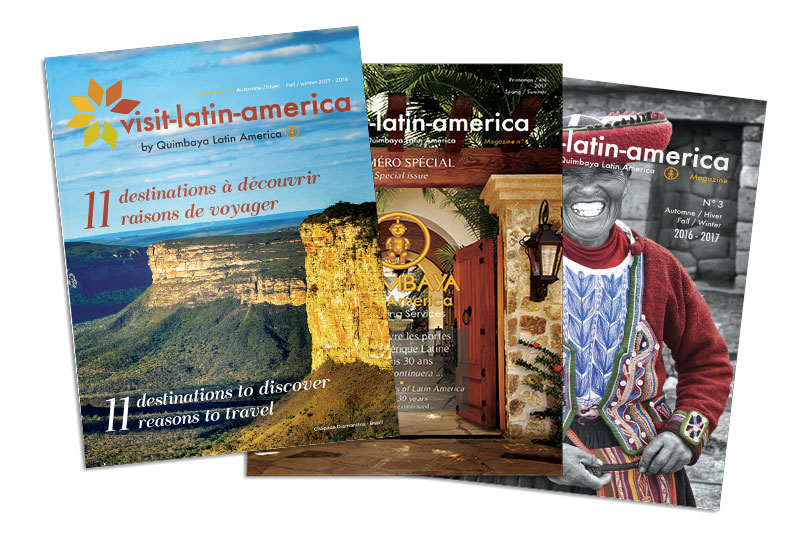 Newsletters – monthly, all information about our members/partners as well as the tourism news are sent as newsletter to all our network.
Currently the opening rate is 30% and the click rate average is 3.5%.
Visit our newsletters on this site, under the "media" section.
Visit Latin America also organizes throughout the year :
workshops
conferences
events to promote its members/partners.
Currently, these activities are only carried out in Europe.
CEO & Founder of VISIT LATIN AMERICA
« Our incoming services Quimbaya Latin America, solidly established over 11 countries in Latin America, offer services to tourism professionals in more than 30 countries over the world.
In the 30 years' history of our organization, we have developed privileged relationships with all companies which are involved organizing our travel packages.
We needed a platform to showcase them, for this reason, I have created Visit Latin America. »