COSTA RICA 
IN 5 REGIONS
San José & Central Valley – Central North & Northwest – Caribbean region – South – The Middle Pacific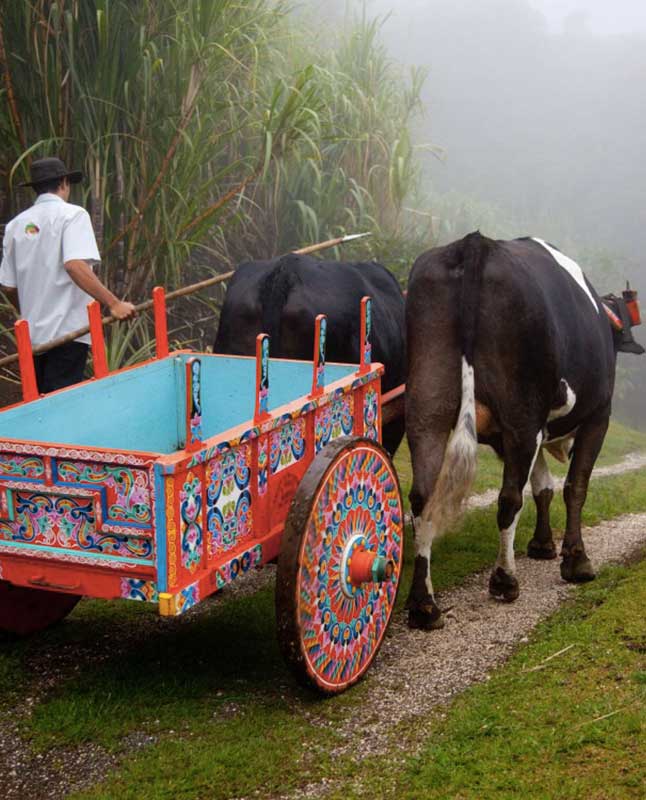 Country main point of entry, it is the cultural and commercial center. The capital is an excellent place to understand and appreciate Costa Rica and its inhabitants, the Ticos!
Splendid museums not to be missed, to start with the Gold Museum and the Jade Museum exhibiting magnificent objects and ornaments dating from the area previous to the Spanish invasion.
A visit to the Central Market is vital to check the diversity and abundance of its stalls.
The National Museum is located within an old fortress where can be admired a mysterious sphere made of a very large rock coming from the pre-Colombian site of Diquis in the Osa Peninsula, designated World Heritage Site.
The Central Valley surrounding San José allows very beautiful discoveries:
Volcanoes displaying spectacular views and some of them are still active such as the Irazu, the Turrialba, and the Poas. They are part of protected natural parks.
Rivers with rapids can be descended by rafting for an unforgettable experience: Rio Pacuare, Rio Reventazon.
Paz waterfalls, located on the slopes of the Poas Volcanoe, a series of fantastic waterfalls and astonishing gardens that form a very well-conceived natural park to observe wildlife and flora.
Coffee plantations spread on the slopes of the hills.
Places with charming colonial residences: Grecia, Barva, Cartago, the old capital and its very interesting cathedral.
Guayabo national monument, a mysterious pre-Colombian archeological site.
Lankester botanical gardens with splendid orchids.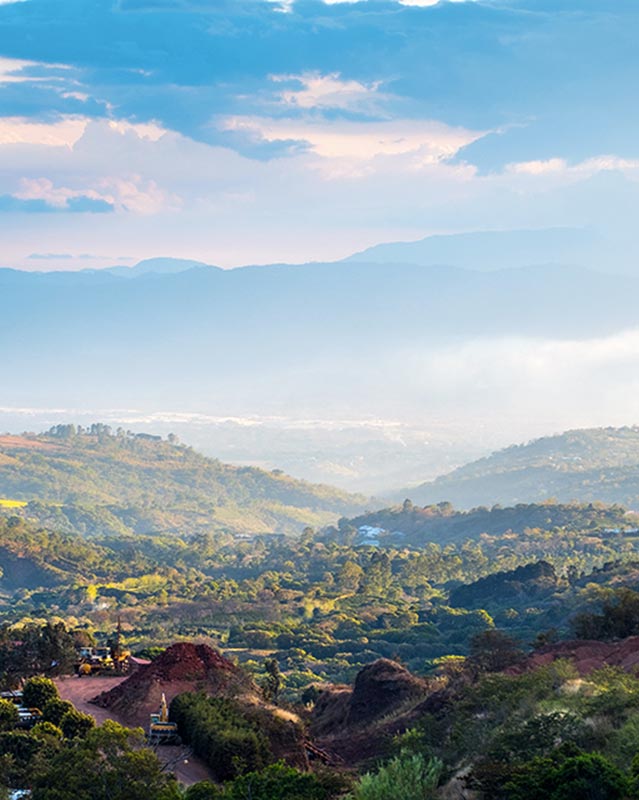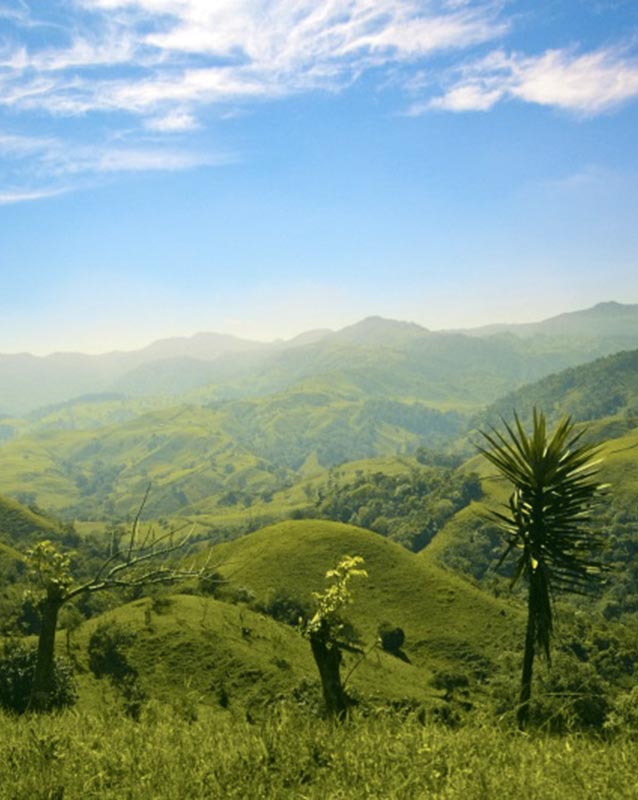 The central North part is an immersion in the wilderness with the discovery of volcanoes, waterfalls, rivers, protected areas and national parks. The most remarkable locations in the region are:
Arenal Volcano National Park, towered over by the majestic shape of this still active volcano! The park is very well equipped with marked trails passing through suspended bridges. Close by, you can find the Arenal Lake, the largest lake in Costa Rica.
La Fortuna waterfall with stunning geological formations and thermal springs close to the Arenal.
Monteverde, the natural reserve of the cloud forest, hosting many different species of animals amidst astonishing scenery. You can walk through the canopy thanks to a remarkable series of hanging walkways that are such an essential attractive feature of the reserve. 

You can go ziplining and fly over the forest!
Caño Negro wildlife sanctuary, on the border with Nicaragua. You can observe an extremely varied fauna with monkeys, caimans, turtles, without mentioning the numerous species of water birds such as flamingos, herons and ducks,… 

The best way to observe the wildlife is by little engine boats that can be taken in the villages of Caño Negro or Los Chiles and that will cross and navigate through lagoons and rivers.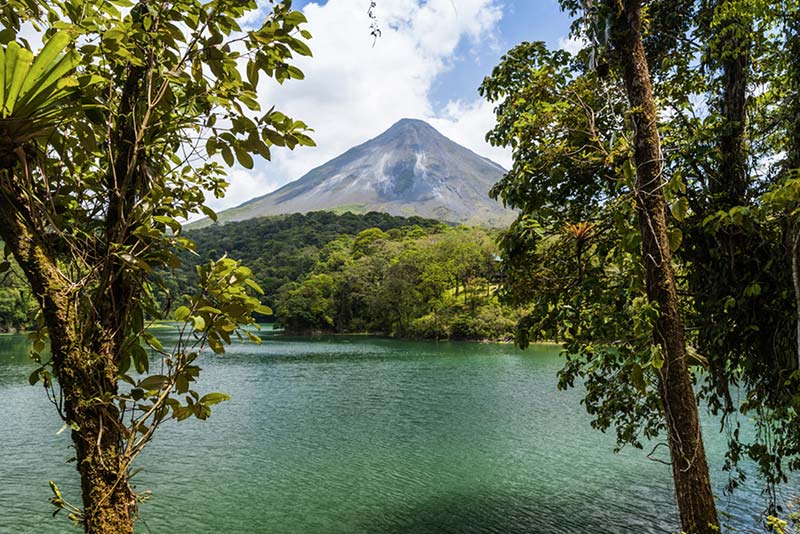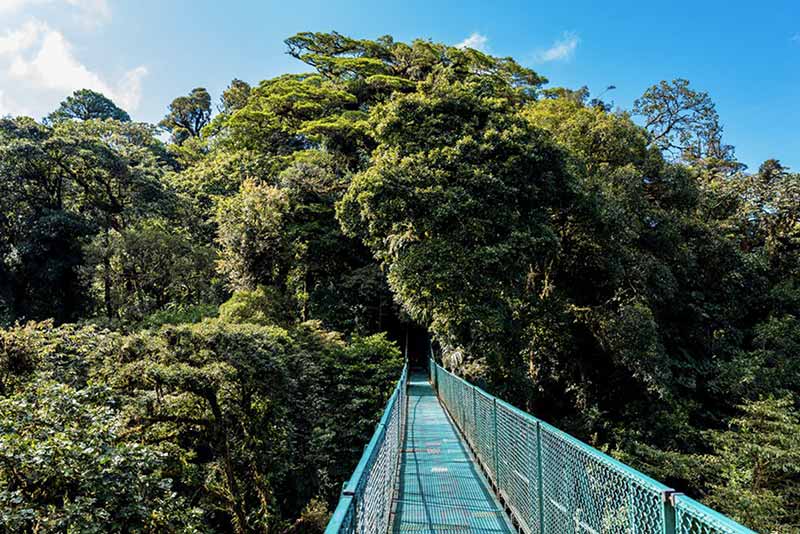 Puerto Viejo de Sarapiqui, the perfect departure point to observe birds.
Rafting in the Sarapiqui river to experience strong sensations
Tenorio Volcano National Park, where you must absolutely discover the Celeste River with its stunning blue waterfall, and many trails to uncover several geological phenomenon. Still not very visited.
Miravalles Volcano's protected area with its cloud forest, geysers and thermal springs.
Bijagua, little village located between the Tenorio and Miravalles volcanoes.
This is the departure point for several walks on foot or horseback riding.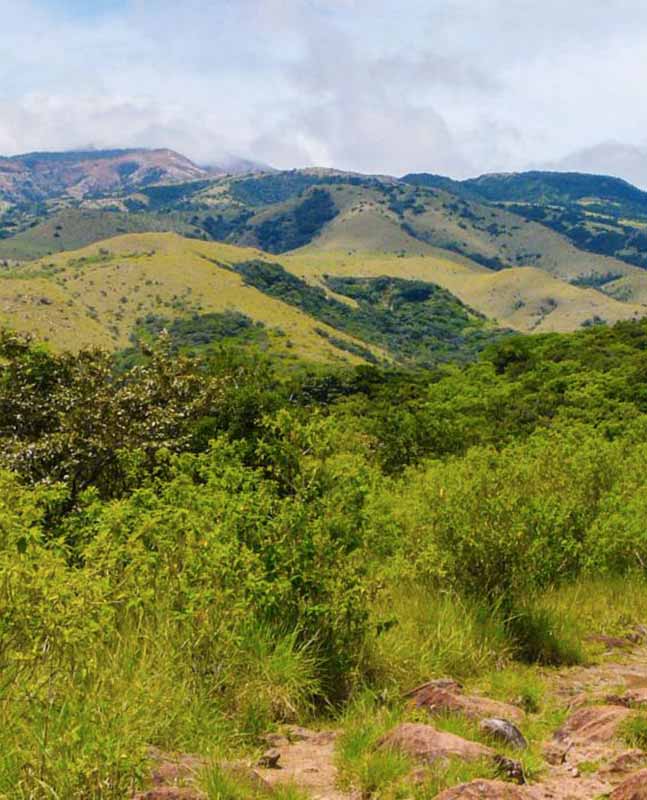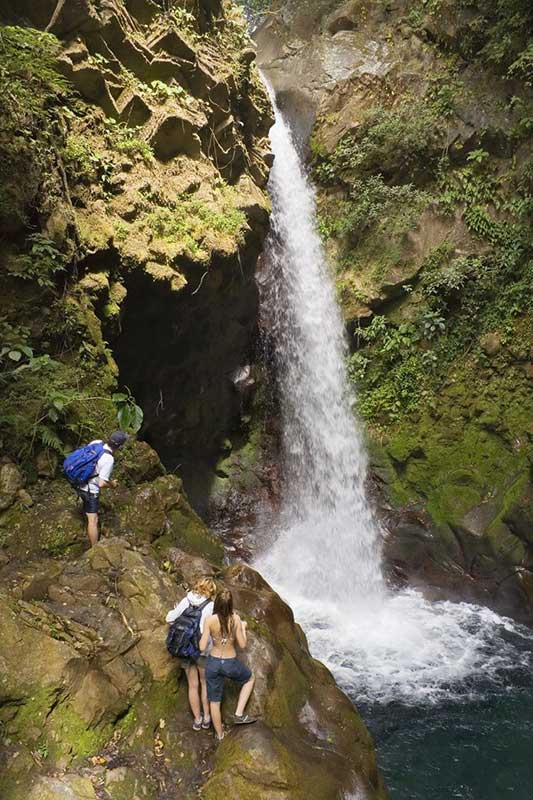 The Guanacaste province, located on the Northwest of the country, is a vast warm tropical prairie with so much livestock farming. It covers almost completely the Nicoya Peninsula.
The Rincon de la Vieja Volcano, with a very contrasting landscape is formed by a tropical jungle with a diverse wildlife and an astonishing flora. The Park offers the opportunity to do many activities. Dot not miss the unforgettable ziplining experience. Going horseback riding or make the most of thermal water sources and watch the amazing waterfalls.
Santa Rosa National Park and Bolaños Island with its tropical forest where you can 4X4 drive through trails to discover a unique wildlife. Reaching the coastline where some type of turtles come to lay when the season arrives. In front of Santa Rosa, Isla Bolaños is a paradise for sea birds.
Guanacaste National Park around Orosi and Cacao Volcanoes have large ecosystems diversity that make all its sumptuousness.
Santa Elena Bay, at the border of Nicaragua with hidden beaches for peace and solitude lovers.
The Nicoya Peninsula belongs to Guanacaste province except the extreme related to another province. Became famous for its dream beaches with a back scenery of opulent jungle! Below some remarkable sites:
Papagayo Golf where the most luxurious hotels and splendid residences can be found.
The Coco, originally a fishing village, also Papagayo Gulf beach resort famous for its aquatic sports especially diving and surf.
Flamingo, one of the favorite resorts of the region, well-known for its marina.
Playa Conchal and Playa Real among the most beautiful sand beaches to be found.
Tamarindo, very well recognized by surfers. Large diversity of hotels, restaurants from all countries and elegant boutiques can be found.
Nosara, small town from where 3 magnificent beaches can be accessed by trails through steep landscapes.
Puerto Carrillo, a small jewel which has kept its Costa Rican style: beautiful beaches, nice hotels as well as outdoors activities dedicated to sports fishing.
Samara, very close to Puerto Carrillo, with a huge beach very pleasant for bathing and a large choice of accommodation and restaurants.
Montezuma, small village with hippie influence has a splendid white sand beach. Rivers and waterfalls invite to beautiful walks in the area.
Malpais and Santa Teresa, very renowned spots for surfers. Nearby there is the natural reservation Cabo Blanco, perfect for sea birds watching.
Tambor, another stunning beach located on a pretty bay.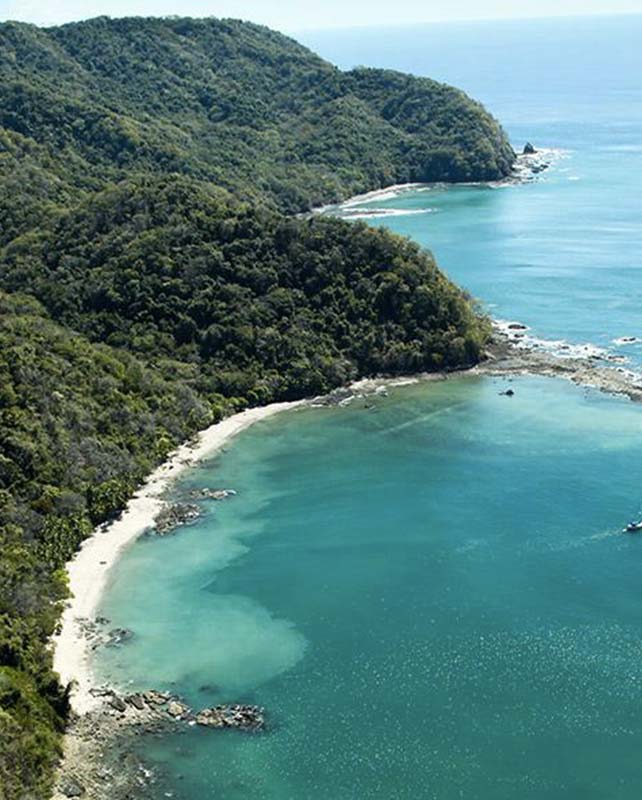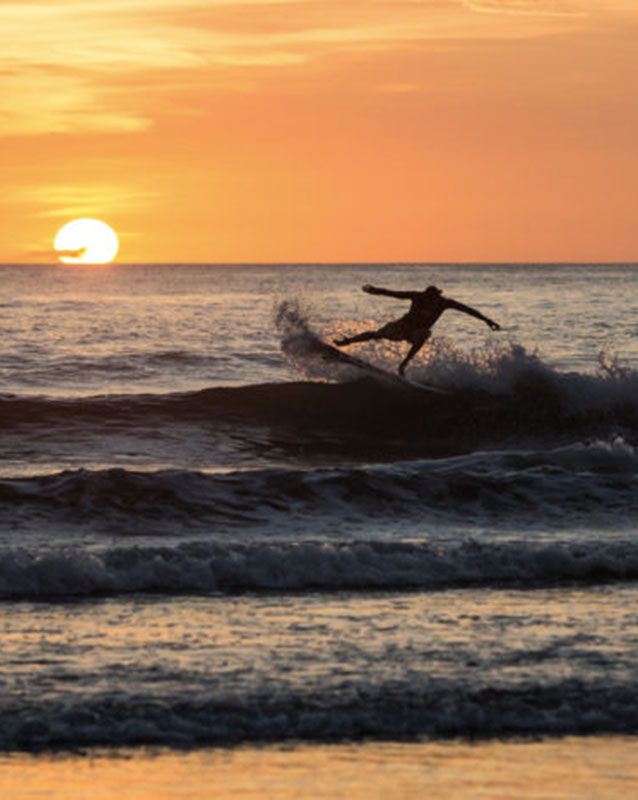 This region enables to discover natural treasures at a relaxed rhythm and full of the Caribbean flavor.
Tortuguero National Park, with no doubt the most emblematic park of the region. Can only be accessed by air or by sea! Upon arrival, it is a fabulous immersion between land and sea in a luxurious nature to be discovered by boat going through the canals that connect the rivers, lagoons, mangroves and narrow water canals! To be seeing a very diverse wildlife and to be watched the gigantesque sea turtles coming to lay between July and August.
Barra del Colorado, national woodland sanctuary, located at the Nicaragua border north neighbor of Tortuguero. Difficult to access but of an incredible beauty. With sports fishing activities.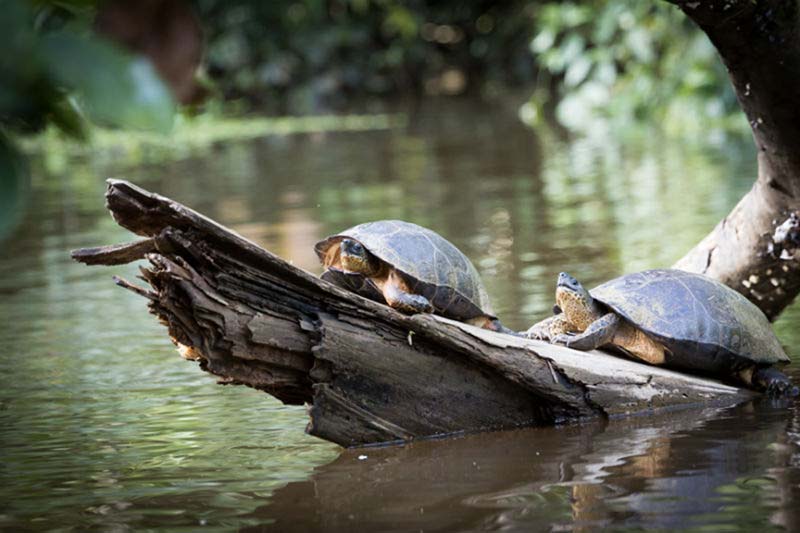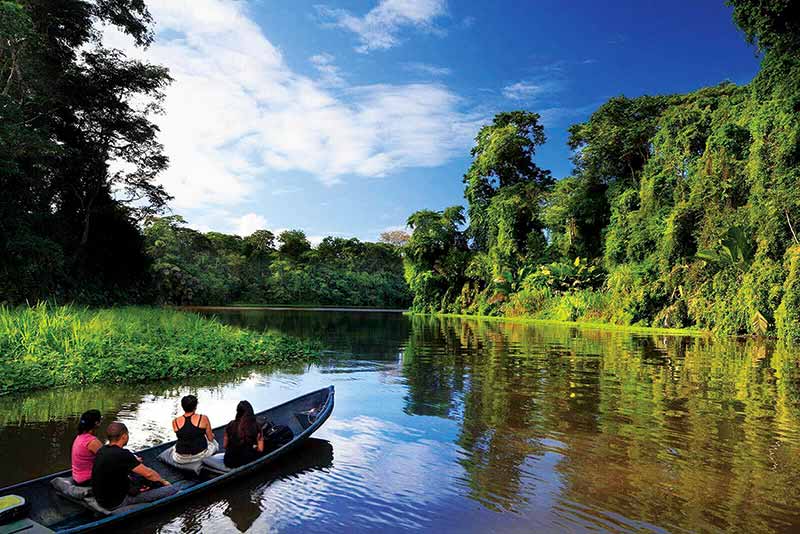 Puerto Limon, small harbor reachable through road, with bright colorful houses and its distinctive Caribbean atmosphere.
Cahuita National Park, perfectly well set to view the wildlife and flora, do not forget the discovery of the coral reefs snorkeling!
Cahuita and Puerto Viejo of Talamanca, surfers' paradise and perfect for water activities, bathing and diving. Departure point to explore the surroundings on a journey.
Playa Cocles and Playa Chiquita, small villages with splendid beaches.
Gandoca Manzanillo, national woodland sanctuary, at the border with Panama.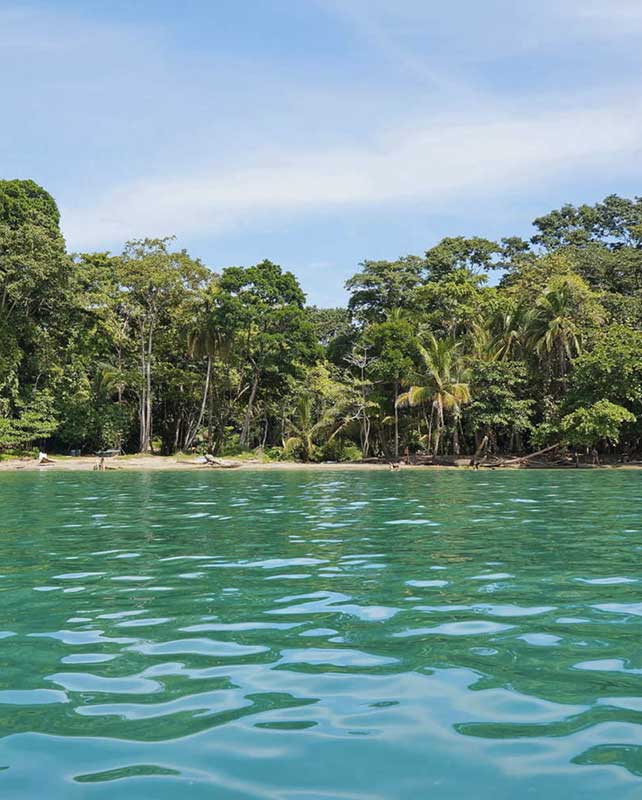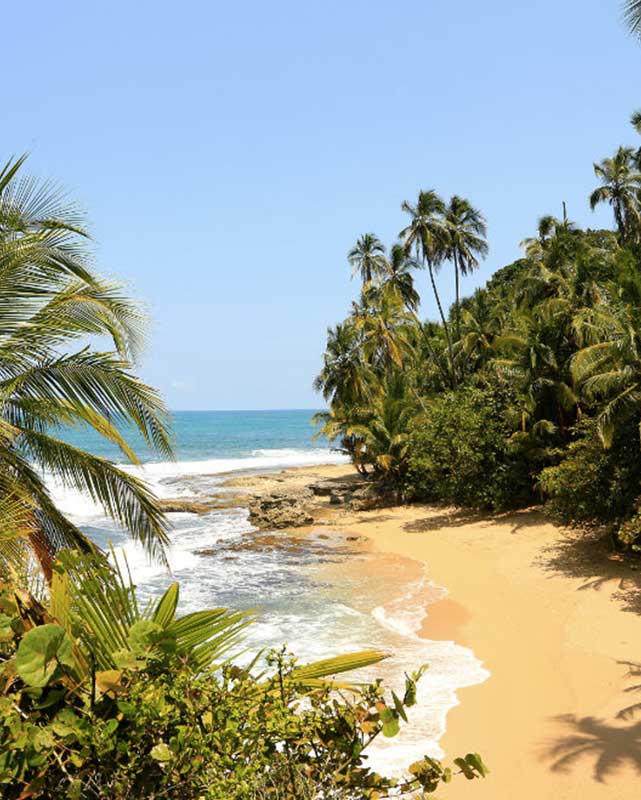 South of Costa Rica is towered over the Talamanca mountain range with spectacular natural areas.
At its feet stretches the coastline regions drenched by the Pacific with also remarkable protected areas which are found outside of beaten tracks, unforgettably lost on the coastline, a protected island, Isla del Coco is classified World Heritage.
Among the most supernatural places are:
Chirripo National Park, where the highest peak of the country the Cerro Chirrupo reaches 3820 meters high. Imposing landscapes to be discovered with valleys crossed by fast-flowing torrents, deep forests, much diversified flora and a remarkable wildlife.
Wilson Botanical gardens with a splendid plants collection.
La Amistad International Park, astride between Costa Rica and Panama and classified World Heritage Site. Can be accessed by trail from San Vito.
Osa Peninsula, a wild paradise outside of tours where primitive sites with a private nature reserve, hidden beaches and spots for surfers can be discovered.
Corcovado National Park with a flourishing forest that welcomes many animal types which some are endemic. It covers a large part of the Osa Peninsula.
Golfo Dulce between the continent and the Osa Peninsula. Many sea species, dolphins, tropical fishes….. can be found. Also can be entered by the mangroves along the golf.
Isla del Coco National Park, 550 kilometers away southeast of the Costa Rica coasts, a real sanctuary totally protected where is forbidden to stay overnight. A World Heritage classified site with exceptional sea beds.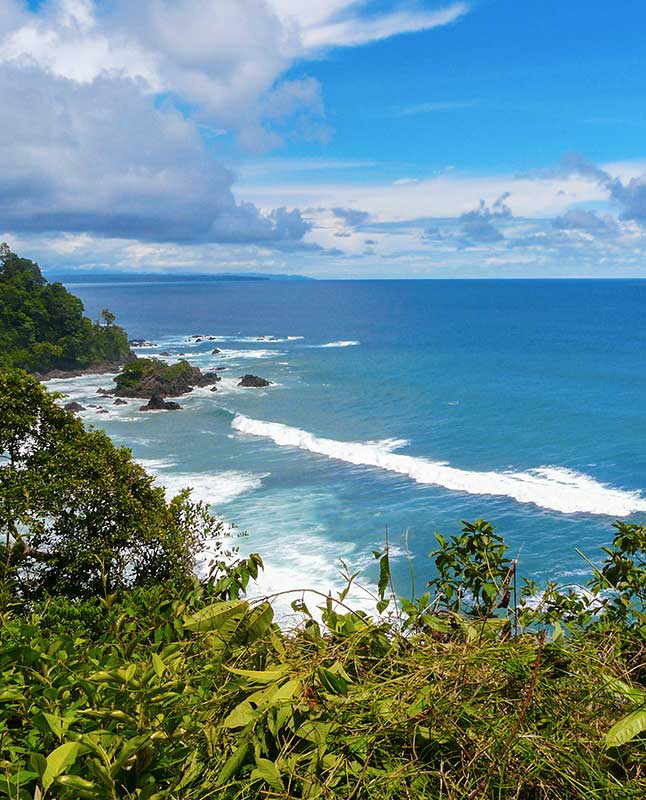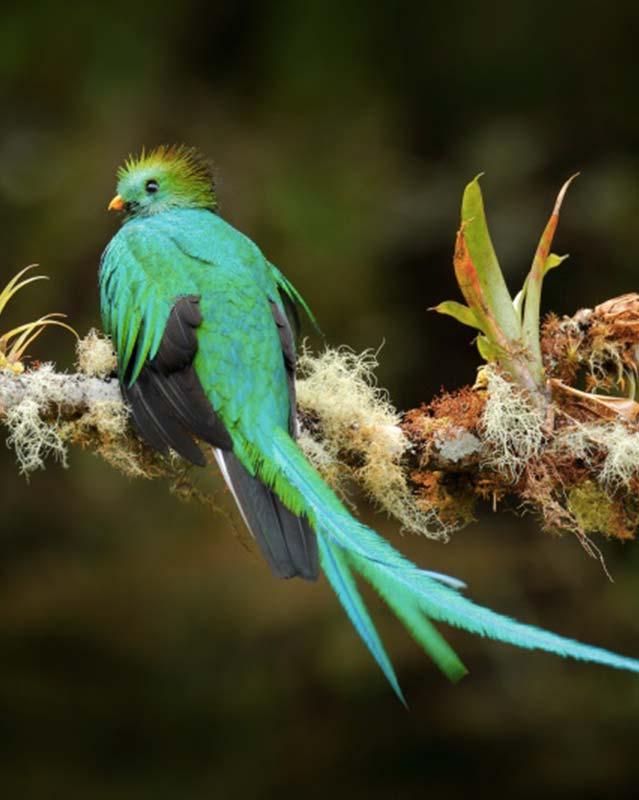 This region has many assets and also offers easy access.
Among the strongest points to visit are:
Manuel Antonio National Park, a must-see! It is one of the most famous of the country. Even though small and well visited, when discovered it is a pure delightful moment. Its trails are very easy to travel across. Its splendid beaches lead you to enjoy the benefits of bathing. It is perfect to discover with the family!
Quepos, the entry door to Manuel Antonio Park, where the traveler finds all the tricks for accommodation, have fun and enjoy a tasty cuisine.
Punta Leona to discover a gorgeous scenic view over the Nicoya Peninsula located in the other side.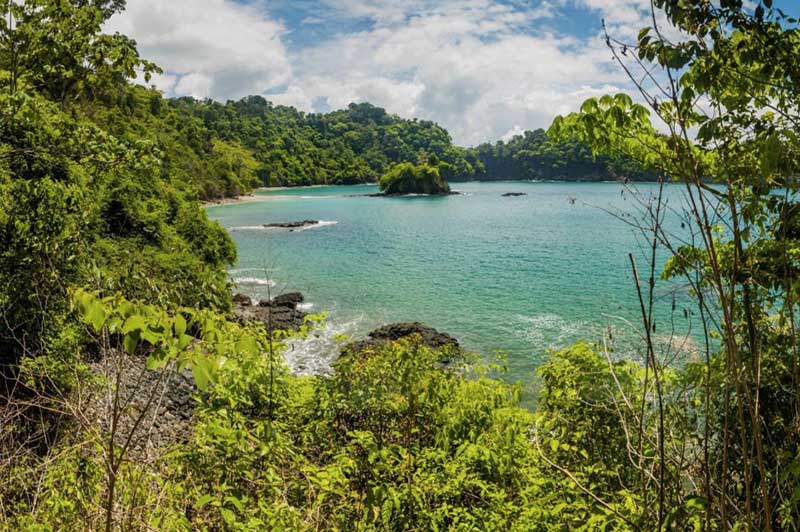 Tarcoles small harbor where you can embark on a cruise on the homonymous river, surrounded by mangroves that will take you to discover the crocodiles, which some are gigantic, and many birds species. In the surroundings, about few kilometers away, there is the biggest waterfall of Costa Rica with 200 meters high.
Carara National Park, closed to Tarcoles. The Park is particularly famous for birds watching which among others are some beautiful red aras, in the middle of the gigantic forest.
Puntarenas is the harbor where ferries embark to cross over the gulf to go to Nicoya Peninsula.
Dominical, small beach resort of the region, with splendid beaches very sought after by surfers. Not to be missed the Nauyaca waterfall near Dominical.