Thomas Cook Group Airlines consist of three sun and beach focused leisure airlines: Thomas Cook Airlines UK, Thomas Cook Airlines Scandinavia and the German Airline Condor Flugdienst GmbH. All of these airlines have been flying passengers to the most beautiful holiday destinations for many years.
As leisure airlines with a long tradition in Europe, the Thomas Cook Group Airlines are proud to belong to a wider family of travel pioneers, the Thomas Cook Group. To express our mutual identity across the whole group, we are united under a common symbol: the "Sunny Heart". We live by the values expressed by the heart – trusted, personal and innovative.
The fleet of the Thomas Cook Group Airlines comprises 92 modern and environmentally friendly aircraft. There are sixteen Boeing 767-300s in the Condor fleet and another eleven Airbus A330 in the Thomas Cook Airlines UK and Scandinavia fleet, which are used to bring our guests to long haul destinations primarily.
On short- and medium haul flights, the Thomas Cook Group Airlines operate the following aircraft types: Airbus A320, Airbus A321, Boeing 757-300.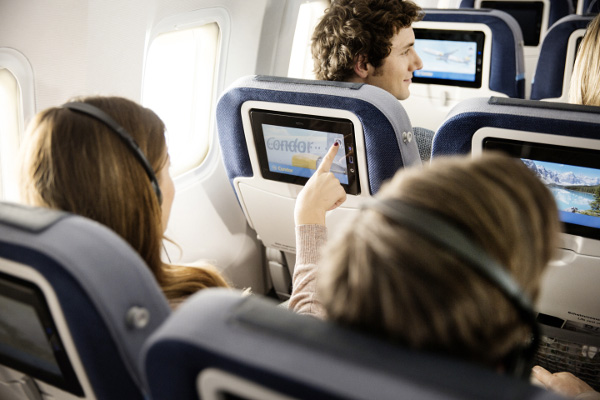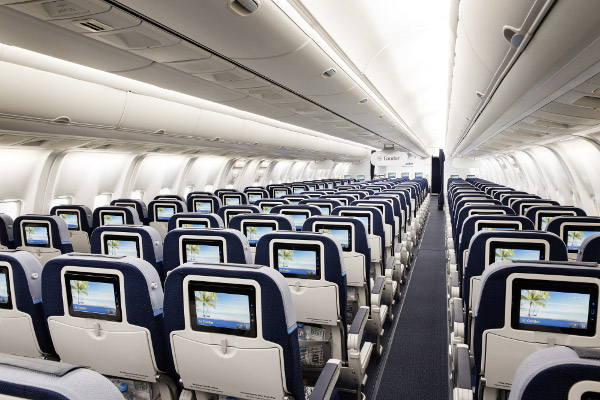 ECONOMY CLASS ON LONG-HAUL FLIGHTS
Our Economy Class cabin has everything you need to enjoy your flight with us and our friendly cabin crew will make sure you get the best possible service. On board we offer you:
Personal 9-inch screen with entertainment on-demand
Selected movies, TV series and audio program
Upgrade to Premium Entertainment for just 9,00 €
Headphones for 3.50 € (complimentary on Thomas Cook UK flights on request)
Earn miles with Miles & More on all Condor flights
PREMIUM CLASS ON LONG-HAUL FLIGHTS
We all deserve a little indulgence: Our Premium Class on long haul flights (Zone 3-5) ensures that your flight is even more enjoyable and comfortable.
Free baggage allowance increased to 25 kg (USA/Canada: 1 x 32 kg)
Cabin baggage allowance increased to 10kg
Free seat reservation
250 miles with Miles & More on all Condor flights
Increased legroom
Ergonomic seats with reclining backrest, individually adjustable foot- and headrests
In-seat video on demand with 9-inch screen and laptop/USB port, including complimentary Premium Entertainment
Carefully selected Premium Menu
Complimentary non-alcoholic and alcoholic drinks for free
Complimentary headphones and wide range of magazines
Amenity kit with a selection of useful accessories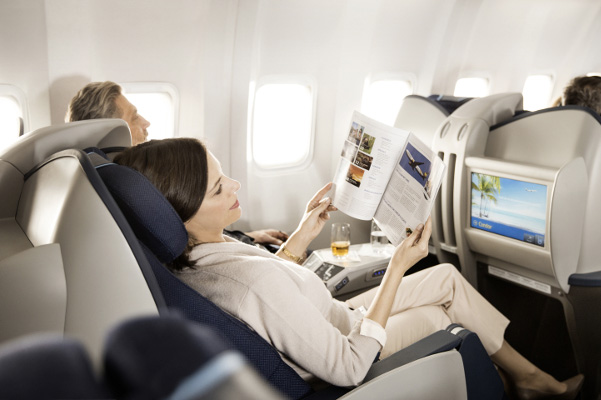 BUSINESS CLASS ON LONG-HAUL FLIGHTS
Our Business Class provides you with even greater comfort and unrivalled service.
Increased baggage allowance: 30 kg (USA/Canada: 2 x 32 kg)
Cabin baggage allowance increased to 12 kg
Free transport of sport equipments
Free seat reservation
500 award miles one-way for Miles & More members
Comfortable, ergonomic seats which can be reclined or laid at an angle of 170 degrees, with a bed length of at least 1.80 m
In-seat video-on-demand with integrated 15-inch touchscreen and power connection, including complementary Premium Entertainment
Welcome drink, Gourmet Menu, dessert trolley, exclusive selection of drinks
Amenity kit and warm moist towelettes
Fast lane usage at all participating airports
Free lounge access at all participating airports
Priority boarding and baggage (where available)