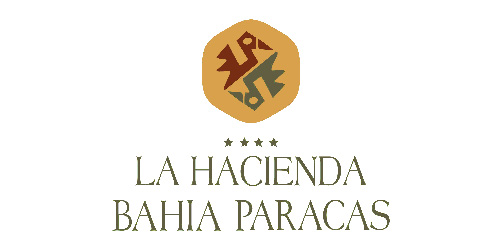 LA HACIENDA BAHIA PARACAS
The Hacienda Bahia Paracas Hotel is located just three hours south of Lima, on the shores of the beautiful Bay of Paracas where luxury and simplicity blend perfectly. Come and experience the comfort and tranquility that our beach side resort offers. 
It is an experience that you are sure to never forget. Every room in La Hacienda Bahia Paracas, has been designed to provide a comfortable stay and the opportunity to experience the tranquility of life on the bay.
Our restaurant, El Coral, offers the best view of the bay.  When this breathtaking view is combined with our exquisite menu, the comfort of our dining room, and the genuine warmth of our service your meal will truly be an unforgettable experience.
The decorations within Hacienda Bahia Paracas make you feel like you are walking through a warmly decorated traditional coastal manor that was preserved for centuries. All of the modern conveniences that you would expect have been seamlessly integrated with an eye for maximum comfort. This fusion of the past, with a modern touch, result into an experience that you are sure to never forget. Every room is conceived with a cozy atmosphere that is what you need to achieve true rest.
La Hacienda Hotel embraces the mystique that comes from a history steeped in tradition. You can feel the passion we have for our culture in everything we do. The ultimate expression of this is found in our personal collection of pre-Columbian artifacts found in our private museum in Paracas.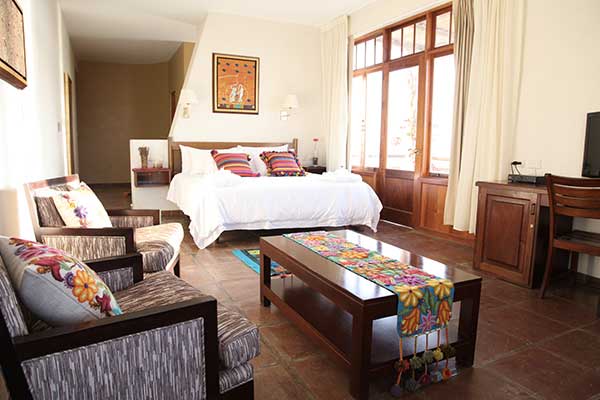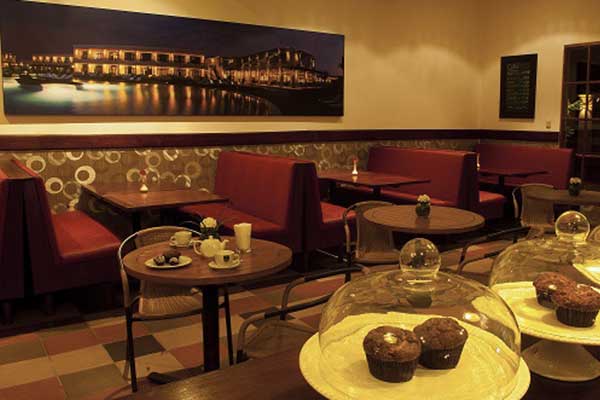 Rooms in Paracas hotel
Warmly decorated, cozy and with the wide range that characterizes the rooms at the La Hacienda Bahia Paracas are created to achieve its true rest. We have various accommodation alternatives according to your tastes and preferences
Restaurants
Discover and enjoy the fresh aromas and flavors inspired by this paradise through our bars and restaurants that have been designed especially for you.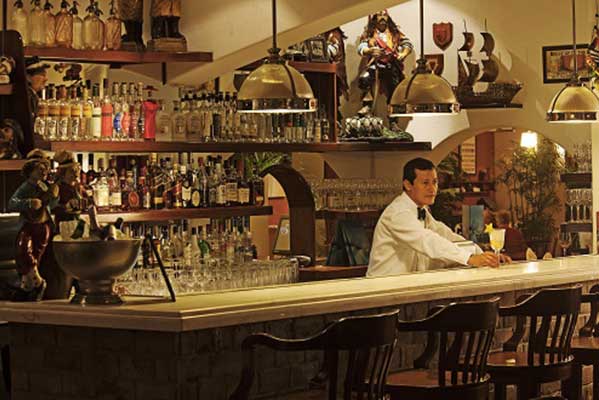 El Coral Restaurant
In our elegant dining room, with stunning views of the bay, you can enjoy our varied and exquisite menu. The dining room is decorated with a large collection of seashells, which we believe to be one of the largest in the world.
El Huarango Cafeteria
El Huarango cafeteria will take you back to the traditional estates of the past. When you arrive in the courtyard El Olivo you will be pampered by the love and dedication that our staff imbue into everything they bake.
Marineros Bar
The Mariner's Bar is known for its a friendly atmosphere and live music performed by some of the best musicians from Perú.  Come and enjoy a fine selection of the incredible cocktails created by our experienced barmen.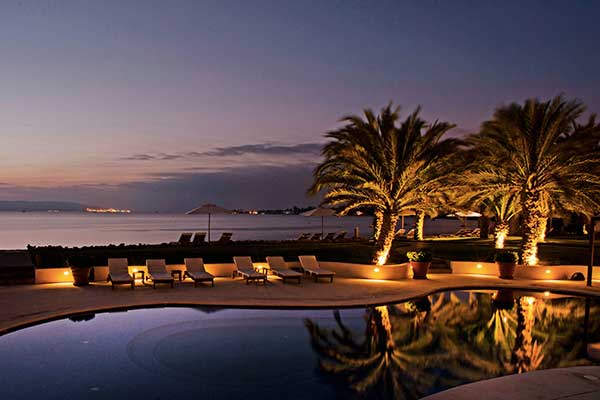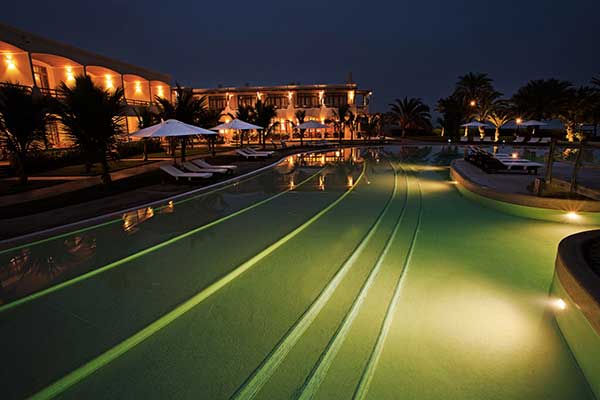 Services at Paracas Hotel
Facilities at La Hacienda Bahia Paracas hotel are designed to give you the freedom to enjoy a dream.
Swimming pool
At La Hacienda Bahia Paracas we pride ourselves on having a beautiful and spacious pool that perfectly complements the natural splendor of the bay. 1600 square meters of water invite you to cool off and relax under the sun or enjoy the amazing blanket of stars that illuminate this beautiful bay.
Water Sports
Come and enjoy a peaceful pedal boat ride or experience the rush of kite and wind surfing. Activities that you can enjoy on Paracas Bay which paradoxically offers strong winds and calm waters. We have specialized supervisors and the best equipment for all abilities.
Sport Fields
For sports fans we offer a modern turf tennis court, and a large grass soccer field.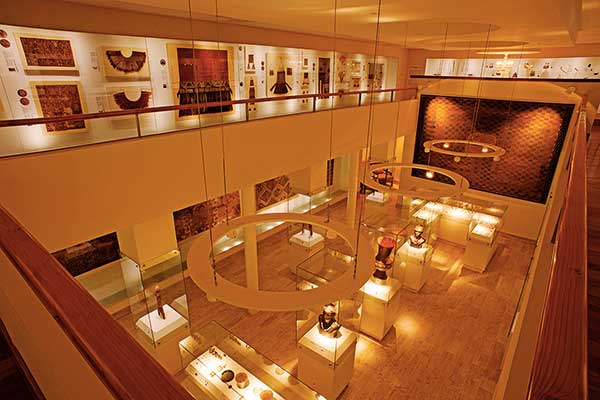 La Haciendita Club
Looking for the best rest for our guests we organize activities for the youngest of the family, like games and sports in the mornings, crafts and hobbies in the evenings.  Always supervised by our enthusiastic activities team. The activities a for guests from three years, all weekends and holidays. Thinking about our guests, we develop activities that will not disrupt their peaceful and quiet moments.
They can share in key hours playing games, sports and even preparing La Hacienda-style cocktails. The activities are all weekends and holidays.
GYM
On the first level of the Ocean Spa is our gym. You will find a complete fitness room, equipped with everything you need to stay fit and trim during your stay.
Bykes
Enjoy a ride along the beach on a beach cruiser bicycle model which can be used to scroll through the sea or visit El Chaco town.
Events
La Hacienda Bahia Paracas is also ideal for organizing corporate and social events. We have a fully equipped banquet room with the latest audio/visual systems and a capacity for 350 people. Our experienced staff is trained to meet the most demanding event and make your guests comfortable during their stay.
Oceáno Spa
The Ocean Spa is the perfect complement to a peaceful day, and will soothe your soul. Within our spa you will find an ocean of feelings and a combination of treatments designed exclusively for your rejuvenation that incorporate local products from the coast and the lush sea of Paracas.
Let yourself be indulged by the hands of our qualified staff and select the treatment that best suits you.
At Océano Spa, you will also find Sauna areas, with a steam chamber and a dry sauna, relaxing Spanish showers, and comfortable armchairs.
Paracas Reserve
Nestled between the breathtaking beauty of Paracas Bay and the mystical tranquility of the desert La Hacienda Bahia Paracas is the perfect place to start exploring the only marine protected area in Peru, Paracas National Reserve.
In Paracas National Reserve you can discover fantastic pristine beaches, admire a unique variety of marine wildlife, and visit the remains left behind by the enigmatic Paracas culture.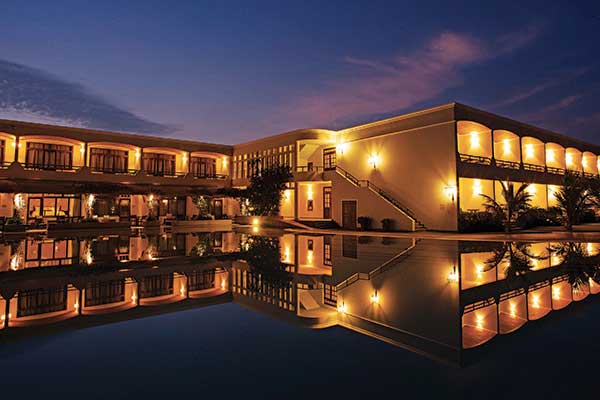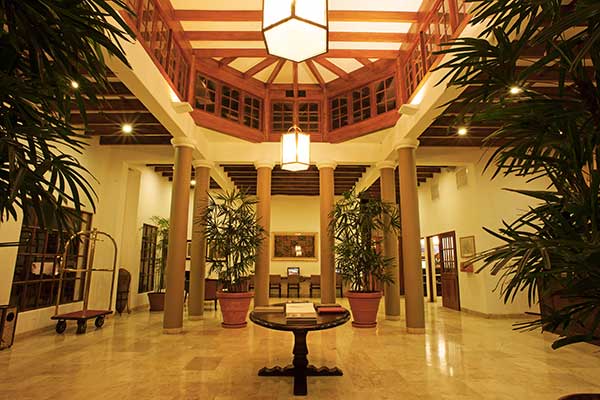 Environmental Policy
La Hacienda Hotels, are convinced that one of the main attractions, to ensure tourism is the respect to the environment, promoting the rational and efficient use of natural resources, continuously improving energy saving and water, as well as encouraging the use of biodegradable and non-aggressive products and implemented actions to reduce, reuse and recycling of materials that we generate in our hotel business.
La Hacienda Bahia Paracas Museum
Located an area of 250 m2, the museum of La Hacienda Bahia Paracas Hotel hosts a group of 250 pieces of prehispanic origin from the most diverse Peruvian cultures, from Nasca and Huari, to Inca, Mochica and Chancay. Hand in hand with experts curators from the Larco museum of Lima, this new area offers an excellent panorama of the Andean civilization from an artistic perspective. Metal, wood, feathers, ceramic, among other techniques helps appreciate the abilities of the ancient Peruvian artisans.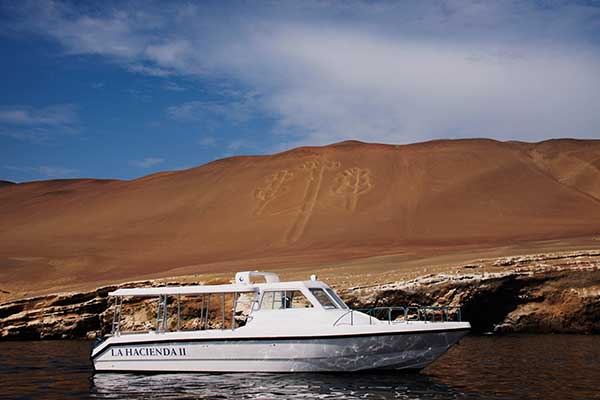 La Hacienda Boats
La Hacienda Bahía Paracas Hotel adds to its luxury experiences, the opportunity to enjoy our new and comfortable La Hacienda boats; where our guests will be able to choose between an exclusive private trip around the Bay tasting the most exquisite sancks and cocktails of our gastronomic proposal or the Ballestas Islands excursion accompanied by our professional guides
LA HACIENDA BAHIA PARACAS

ADRESS

Urb. Santo Domingo Lote 25 Paracas
CONTACT
+ 511 2131010
 reservas@hoteleslahacienda.com
NEWS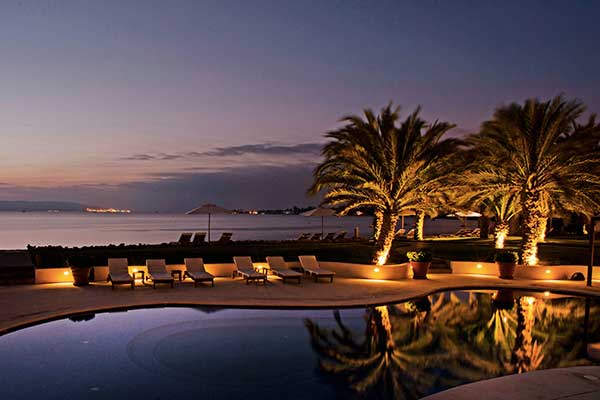 SERVICES
Pool
Room Service
Free Parking
Free High Speed Internet ( WiFi )
Fitness Centre with Gym / Workout Room
Restaurant
Bar/Lounge
Beachfront
Spa
Breakfast included