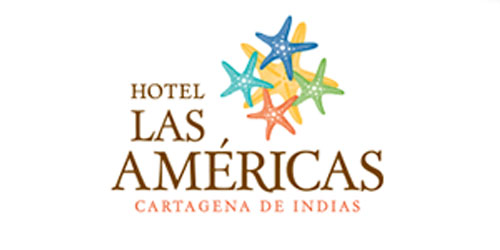 World Travel Awards 2017 given to Las Americas Hotel in "Colombia´s Leading Conference Hotel" category.
Among a selection of some of the most outstanding hotels in Bogotá, Medellín and Cartagena, Las Americas Hotel has received this coveted award for the perfection of its service and its leading facilities. The award was presented to Juan Carlos Araujo, the hotel's general manager, who praised the award for a team's effort to give the best to their guests. Established since 1993, World Travel Awards oversees the list of the most coveted awards of the world tourism industry.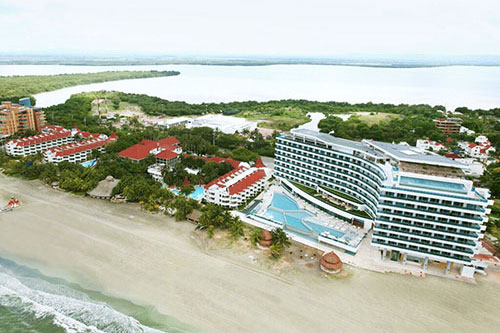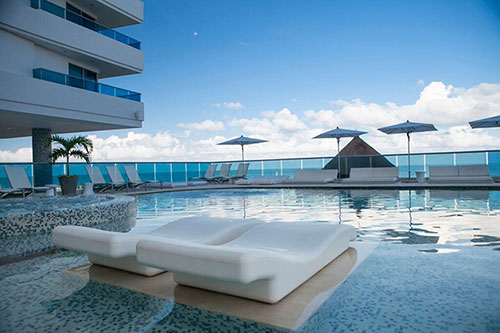 The best option in the Colombian Caribbean. In Cartagena de Indias, a World Heritage Site, Hotel Las Américas offers endless options in an autochthonous environment, with superior service and all the qualities of a five star hotel.
The resort is made up of Las Americas Beach House and Las Americas Beach Tower.
On the shore of the Caribbean Sea, travelers will find beaches, swimming pools, bars, restaurants, cafes, spacious lounges, business center, gym, spa, Tennis court, mini golf and video game room, and the fantastic Kid's Club. Hotel Las Américas is a fantasy made for all people who want to enjoy the magic of Cartagena, its beaches, its climate, its history, its people, its gastronomy, its music and culture.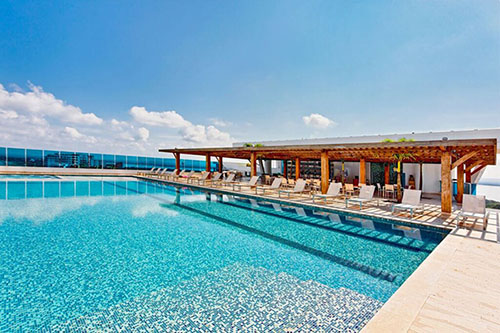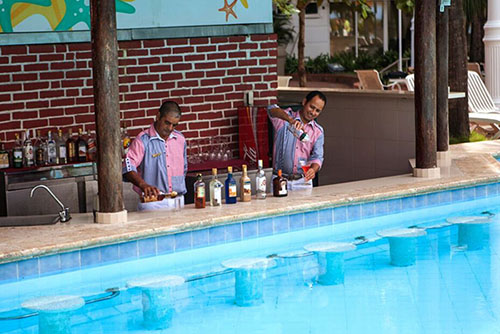 Las Américas Casa de Playa
Recently renovated, Las Américas Casa de Playa is a tropical paradise in Cartagena de Indias, with spacious guest rooms overlooking the Caribbean Sea and its beautiful nights and sunsets. Its attractive beaches and the charm of its architecture make Casa de Playa the perfect place for its visitors to have fun and relax, enjoying superior service. Las Américas Casa de Playa offers 251 newly remodeled rooms and suites with balconies where you can relax on a hammock and enjoy the warm breeze of the Caribbean.
Guest Rooms
Superior rooms offer two double beds or a king size bed. The Junior Suite and the Duplex contain everything you need to enjoy a comfortable stay with your family: an independent bedroom with King bed and a living room with a sofa bed and dining room.
The family suite Queen Elizabeth has a king size bed and two other semi-detached beds, a jacuzzi and two bathrooms.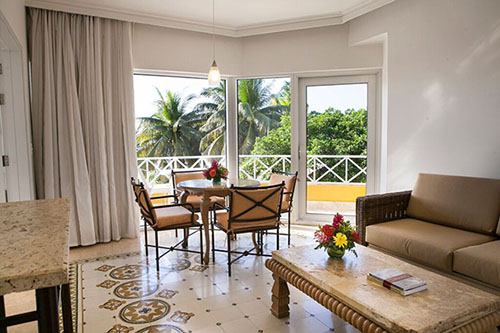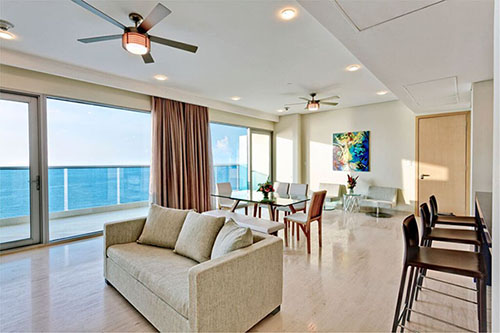 Las Américas Torre Del Mar
All the comfort of a five star luxury hotel, in a tower designed under the highest standards of elegance and distinction. Las Américas Torre del Mar is a symbol of sophistication and style in Cartagena de Indias. The guest rooms and social areas in Torre del Mar take a particular significance. A place where sunset is a breathtaking experience, with the highest standards in technology, comfort and decoration.
Guest Rooms
Overlooking the sea and the city, the swamp and its mangroves, Las Americas Torre del Mar offers Superior rooms, Junior Suites, Executive Rooms and Two Presidential Suites.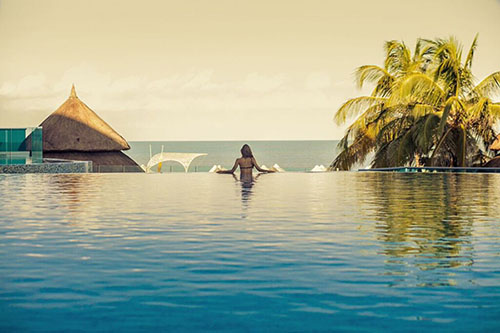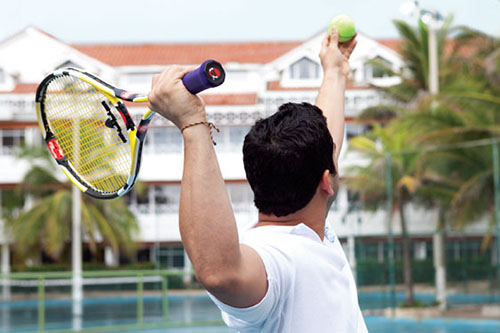 Activities for Children
Guests can rest while their children have fun during their stay with El Capitan Estrella Club, our Kid's Club located on Casa de Playa. The trips of the Captain and his friends will transport them to fascinating adventures, as they learn by playing. The little ones can enjoy different activities designed by our entertaiment staff, suitable for their age, with water games, playground, sports, culture and a lot of fun. Activities for children range from dance classes or aerobics, to cooking and cinema courses, to a picnic ride through the streets of Cartagena.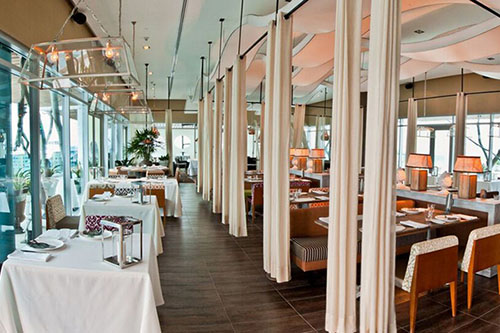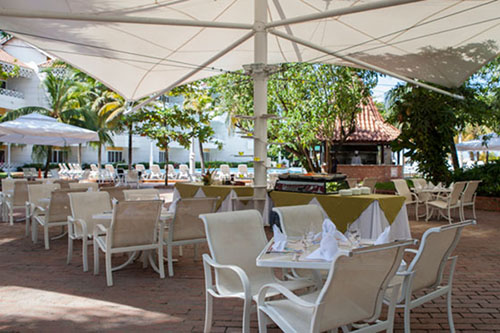 Erre Restaurant is located on the 10th floor of Las Américas Torre del Mar; well-known for its classic, modern and minimalist decoration. Erre, by Ramón Freixa, is a territory where flavors come from the Mediterranean, in a crossing that is found in the Caribbean of Cartagena de Indias.
Enjoy a combination of original high-cuisine dishes, which is added to a first-class service and a select wine cellar, all surrounded by the best views of the Caribbean Sea, the city of Cartagena and the Ciénaga de la Virgen.It is divided into four environments: Tapas, it is the first atmosphere to chop exquisite snacks and also to enter the heat with some glasses, before dinner. Its Capacity is for 40 people.
Bistronomic, it is the second environment, with a novel menu, where meats and grilled fish are prepared only with olive oil and salt, which highlights its natural flavor. In Bistronómico the best of the season is offered, offering the freshest dishes of the city. Capacity for 50 people, plus a reserved area of ​​12 people.
Reservations are recommended. Gourmet is the most exclusive atmosphere. Here, seven tastings (short menu) or ten tastings (long menu) are served in a single menu, which Ramón Freixa calls "gastronomic experiences". It is very luxurious and synonymous with high cuisine. In the Effe Terrace you can enjoy the dishes of the restaurant, with a beautiful view of the Virgin Cycle and the city of Cartagena.
LAS AMERICAS HOTEL

ADRESS

Anillo Vial, Sector Cielo Mar
CONTACT
 + (57) 5 6723434 / (57) 5 6724242
Fax: + (57) 5 6728104
 reservas@hotellasamericas.com.co / 
colombia@quimbaya-tours.com
Site internet:  www.hotellasamericas.com.co
NEWS
SERVICES
Pool
Fitness Centre with Gym / Workout Room
Beachfront
Room Service
Free Parking
Free High Speed Internet ( WiFi )
Restaurant
Bar/Lounge
Spa