MI PUEBLO SAMARY – HOTEL BOUTIQUE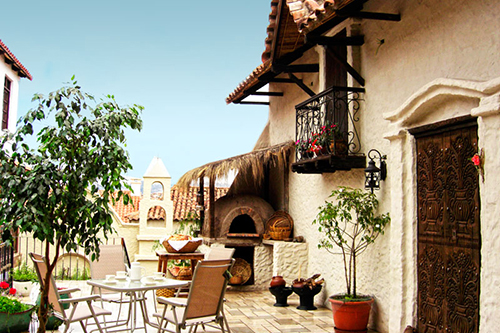 Reminiscing the old Bolivian colonial towns, "Mi Pueblo Samary" represents a cultural reclamation project that offers an identity, which retrieves and revalues our architecture as well as colonial and mestizo customs.
Four blocks off the Main Square, an ancient colonial house was restored and modified, simulating a small colonial town to offer our guests a sample of Bolivian patrimonial culture.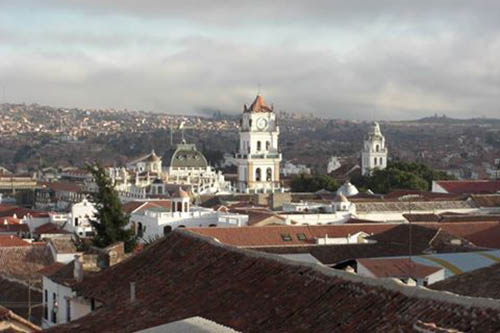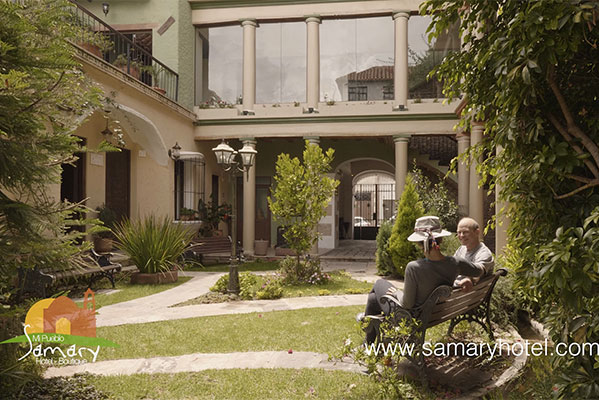 Like every town "Mi Pueblo Samary" has a main street where you will find our traditional bar "La Chichería", a small square, a church, a ditch, colorful facades and people walking, being that the environment Hotel Samary, offers for your experiential stay.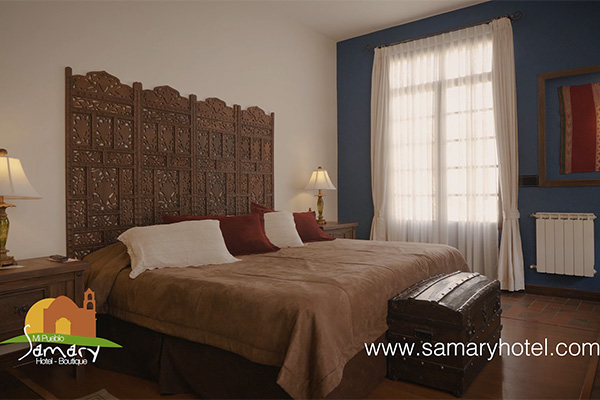 ROOMS
Its rooms are decorated with a luxury ethnic touch and exclusivity, which distinguishes textiles, art and iconography stone carvings of the ancient Yampara culture.
GASTRONOMY
Here we bake our own bread in a clay oven, which can be enjoyed on the baker's terrace supplemented by a typical warm drink. American buffet breakfast is served in "Los Tejados" restaurant, where you have a beautiful view of the city and surrounding mountains.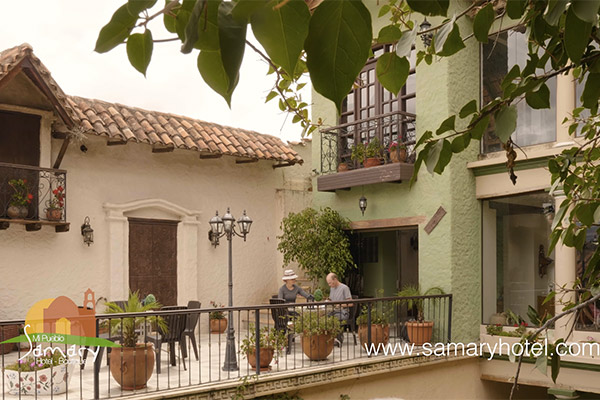 LA CHICHERIA
Our traditional bar "La Chichería", resembles the original Bolivian bars of processing and consumption of  "chicha" (a ceremonial and sacred Andean drink).  There you can taste the "chicha" and the finest traditional liquors.  Later during "The Republic" in Bolivian towns and cities these places became important, elegant and curious cultural customs environments.
Our clothing highlights the traditional costumes and emphasizes the fine embroidery and beautiful designs of local textiles.
"Los Tejados" restaurant with a spectacular view of the city offers the finest breakfast and lunch a la carte.
MI PUEBLO SAMARY
ADDRESS

Calle Dalence No. 349, Sucre – Bolivia
CONTACT
 +591 (4) 642 5088 / Fax : + 591 (4) 643 8117
 samary@samaryhotel.com / samaryhotel@entelnet.bo
 www.samaryhotel.com/
NEWS
SERVICES
Bar/Lounge
Free High Speed Internet ( WiFi )
Breakfast included
Room Service
Free Parking
Restaurant